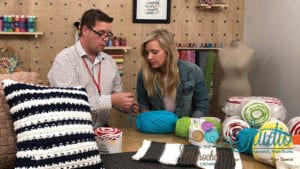 The Stitch Along with our friends at JOANN will be back this fall. We are changing it up for this fall.
We did a survey last fall to determine what is of interest to you the most and brought it forward to the discussion table for 2021. From your requests, we decided on much shorter projects that are awesome for personal use, charity-giving and gift-giving.
As the weeks go on, the patterns get a little more challenging which is intended for skill-building.
Patterns will be loaded with video support at the time of each of the launches. 
---
Caron Colorama Yarn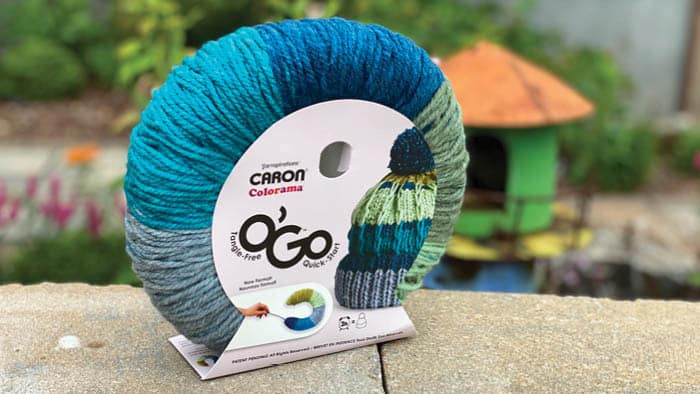 Caron Colorama is only available in stores at JOANN but can be purchased through JOANN.com and Yarnspirations.com if you wish. This is #5 Bulky Weight Yarn so projects will stitch up faster giving you more time for other things.
This is 100% acrylic, 6.4 oz/180 g; 228 yds/208 m per O'Go.
---
Project 1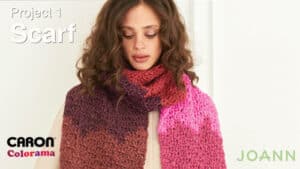 The Big Bargello Bands Crochet Scarf and a very easy repeat. If you want to change the size of this which includes blanket size, the multiples are 22 chs + 6.
With this example, you let the O'Gos flow freely and work your way through them. Where the colours land is random.
This super-sized scarf is 96" long by 11" wide. Of course, you can make it smaller and change the multiples to adjust for the size.


It uses 3 Caron Colorama O'Gos that include:
1 O'Go o Concord Crush
1 O'Go of Wine Time
1 O'Go of Lippy.
You can change the O'Gos to other colours in this brand if you wish to change the 'flavour'. You will use all 3 O'Gos completely.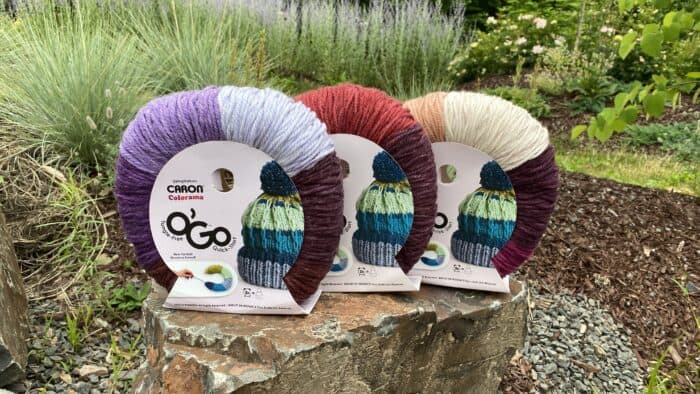 ---
Project 2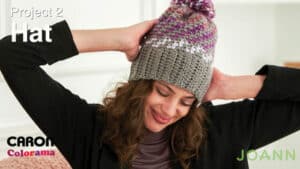 The Crochet Spiral Stripes Hat is a favourite for 2021 for me. It's much easier than it looks but if you intending on gifting it, don't share that little secret.
Caron Colorama lends itself to the colour play option. Even cooler is that you can do two hats if one doesn't have a pom-pom using the same 2 O'Gos. You can make the colour play in any order that you wish. This crochets much faster than you may imagine. I did mine in solid gray using a blue-toned O'Go.


This is an adult-size hat. I'm sorry, I don't have a pattern in this format for kids.
The colours of the Caron Colorama used are:
1 O'Go of Pave the Way (solid gray)
1 O'Go of Concord Crush.
Again, you can change the colours to suit your own personality or the person who may be being gifted your creativity.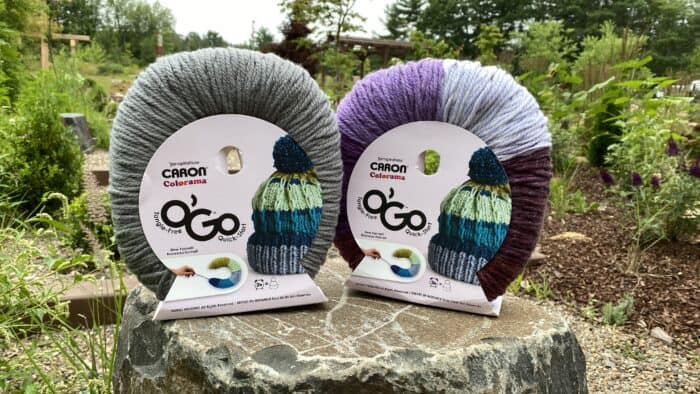 ---
Project 3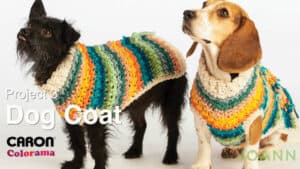 The Happy Camper Dog Coat is the final pattern of the Stitch Along. Sized from Small to Extra Large for dogs.
With the Small and Medium Versions, you can get 2 dog coats out of the 2 O'Gos suggested if you don't use the back fringe options. The white-collar and legs have to be changed out for a different colour for the second one as you will run out of that colour earlier.


There is serious colour play in this version
Free Additional Crochet Diagram
I created the Happy Camper Dog Coat Diagram to explain the texture for regular back and forth rows, increasing rows and decreasing rows. I think this will be helpful for you to see it in this format. The use of this diagram is explained in the video.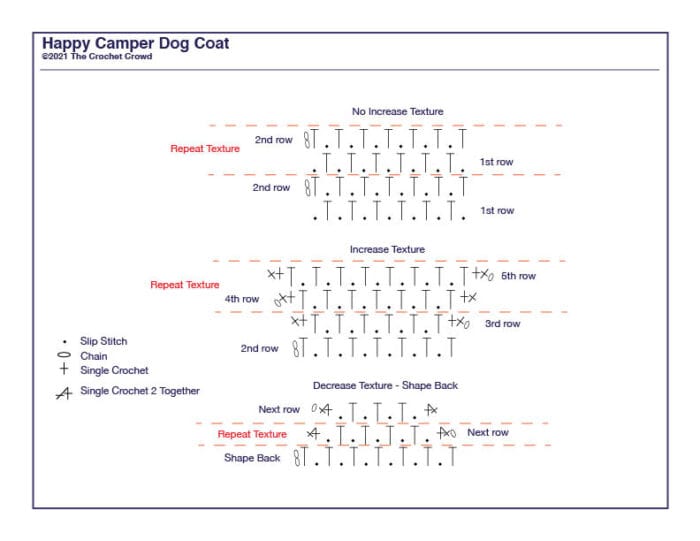 There are 4 sizes of dog coats in this. Measure around the chest just behind the front legs of your dog to find the size that is right for you. The small, medium and large dogs only require 2 O'Gos. The XL size requires 2 O'Gos of each colour. The colours are:
1 O'Go of First Blush
1 O'Go of Baja
Get two of each colour if doing the XL.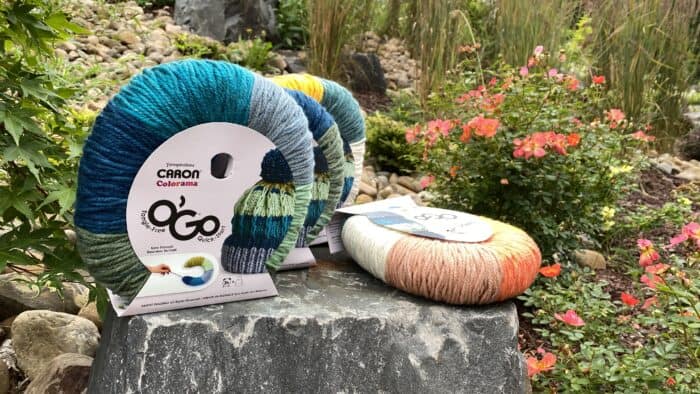 Dog Coat Colorama O'Go Yarn. 1 Each of First Blush and Baja for the Small to Large Size and 2 each for the XL Version.
Knitting Versions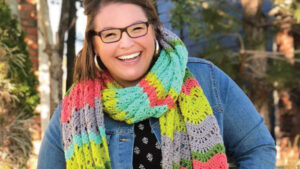 Host, Marly Bird, will be the teacher of the fall for the knitting side of this Stitch Along. Again using Caron Colorama O'Go yarn for consistency.
Marly is right on point and is a terrific host for pre-recorded and live presentations when it comes to teaching you all you need to know about stitching.
---
Knit Fenangle Angles Scarf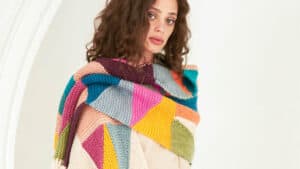 An intermediate-level scarf that is 77" Long by 22" wide. This is the Knit Fenangle Angles Scarf.
The pattern is very detailed and with Marly's assistance, this could be a new skill that you could try.
The pattern includes schematics on the colourful layout of this scarf. Finished with fringe.
Explore the colours and this scarf is very generous in size.
The colours of the Caron Colorama used are:
2 O'Gos of Lippy.
2 O'Gos of First Blush.
2 O'Gos of Baja.
---
Knit Go Around Fair Isle Hat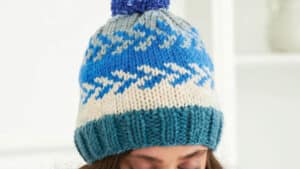 The Knit Go Around Fair Isle Hat is definitely intermediate again using the skills to carry yarn.
Like the crochet version of carrying yarn to create symmetry in the lines, this one is doing the same.
The colour of the Caron Colorama used are:
---
Knit Gotta Split Brioche Cowl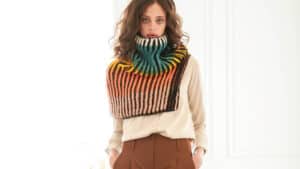 The Knit Gotta Split Brioche Cowl is a back pocket concept that you could really use in other projects in the future.
As a crocheter, I'm amazed by this technique and it's really pretty.
Again, Marly will help you through the concept, one stitch at a time.
The colours of the Caron Colorama used are:
1 O'Go of Biker Jacket.
1 O'Go of First Blush.
---
Introduction
Launching September 18, 2021
---
More Ideas
---
Tutorials
Big Bargello Scarf - Launching September 27, 2021
---
Crochet Spiral Hat - Launching October 4, 2021
---
Crochet Happy Camper Dog Coat - Launching October 11, 2021
---
More Stitch Alongs