Crochet Snowflake Baby Blanket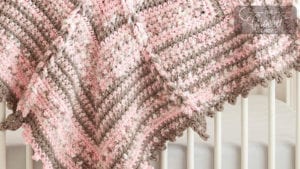 In 2017 there had been a plan for 2 Stitch Alongs which were the official blankets taught on JOANN Fabrics and Craft's behalf. Both the Bernat Blanket Mystery and Snowflake Baby Blanket were designed for the stitch along with the purpose.
Crochet this modern and soft baby blanket called the Magic Snowflake Baby Blanket. This easy to follow design requires only 4 balls of Bernat Baby Bundle Yarn. Also for this time frame, there was another product called Bernat MIXX.
The yarn is unique as it has for types yarns inside the same ball. How the project turns up is unique.


This pattern is a star with the jacobs ladder effect between each point. For me, it took me about 6 hours to make one of these from start to finish. It's fairly straight forward.
See 275 examples of what crocheters finished. See the Crochet Baby Snowflake Blanket Gallery.
Tutorial
More Crochet Pattern Ideas
More Stitch Along Crochet Patterns