Reading Time:
6
minutes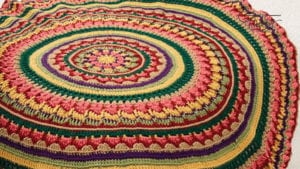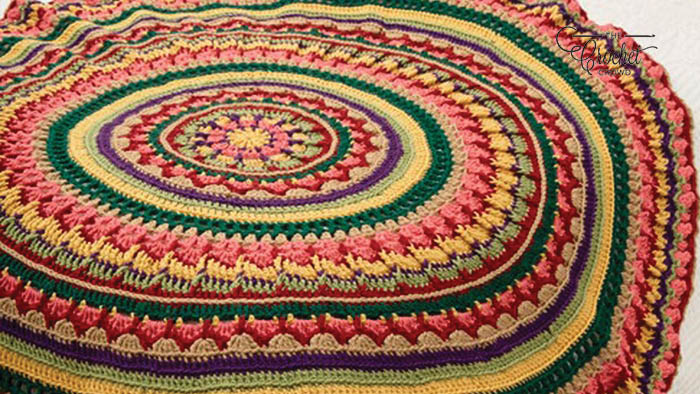 Crochet Mandala Stitch Along
We are kicking off 2020 just a week early on Boxing Day, Dec 26, 2019, with the Red Heart Mandala Throw Pattern.


Technically speaking, the pattern is already out in the public domain through Yarnspirations.com. So crocheters can start at any time but the video tutorials will be timed to match the crochet along schedule. We do larger projects in increments as more people can have a success story when we work as a community together.
Mikey's Version
Bernat Super Value, A – Topaz, B – Navy, C – Aqua, D – Lush, E – Teal, F – Taup & G – Forest Green.
Please note that I subbed round 48 using B instead as I ran out of C to be able to do that. It is the only round I substituted a colourway.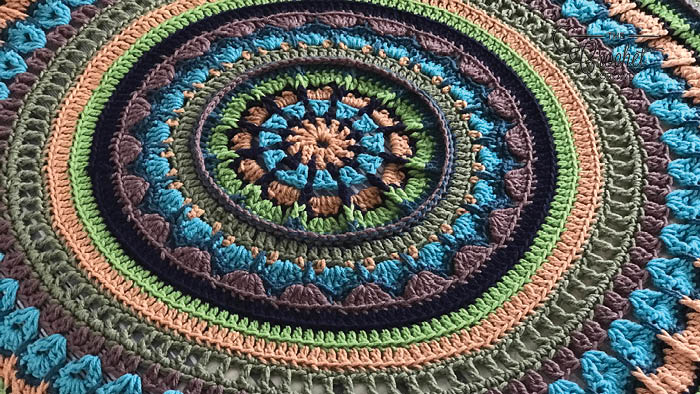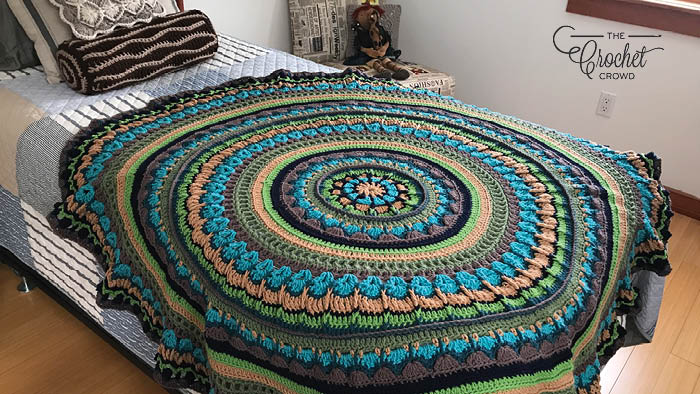 It's time now to choose your colours and get yourself ready. We will have prizes for finished examples. If you have already done this throw, you can still qualify as you put in the work already.
Playlist Tutorials for this Series
Mandala Worksheet – 2 Pages
To help with this amazing throw, I have made a worksheet that will help you get started. You can download/print the worksheet to use at any time. Page one has tips and marking in which colours you have selected. Page 2 has what Mikey will be using plus an empty colouring book-style option to draw in your own colours to test try ideas.
Alterations
I ran out of yarn using Bernat Super Value for Round 48. I frogged and

subbed C for B

. It's the only round I went out of colour sequence. I looked at remaining ball colours and the last two rounds left and determined I didn't need to buy more yarn, I just used what I had.

Colour B is actually Navy.

I have Marine on PDF but that is French for Navy.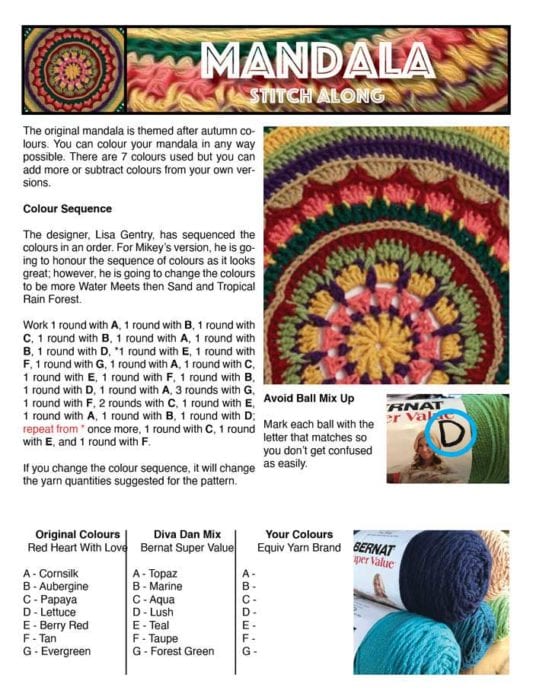 Tutorials
A brief introduction to what a mandala is.
Mikey will provide the tutorials in 4 weeks starting on Dec 26th. Crocheters will learn how to read the diagrams and be able to follow on camera.
Do yourself a favour and do the gauge test. If your afghan isn't sitting down at some point and you never ran a gauge test, you may just regret getting started. See the worksheet for tips. Mikey will have a gauge testing video in the future for this as well.
Rounds 1 – 10 Week 1
Rounds 11 – 25 Week 2
Rounds 26 – 40 Week 3
Rounds 41 – 50 Week 4 Final
Giveaways
This project already exists. Some crocheters may have already done this project. The work for those crocheters has already been put into this project.
Existing afghans should be completed as written from rnds 1 – 50. As stated below, you can change the colours or the yarn but to be fair to all entries, the project instructions (stitch-wise must be the same). If you have decided to add more rounds, as long as rnds 1 – 50 are completed, it will qualify.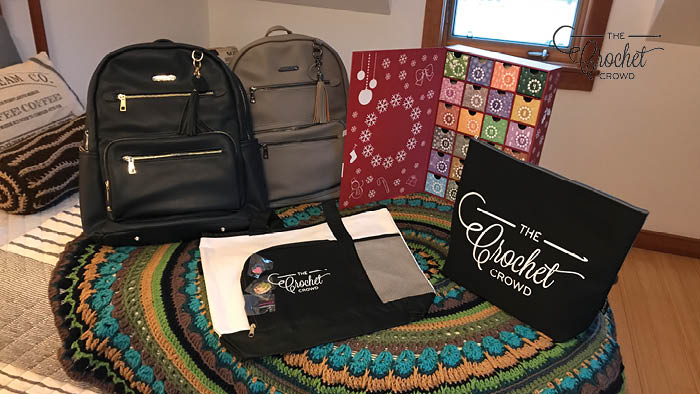 4 Giveaways
2 – Namaste Maker's Backpack – $150 USD each.
Designed for Makers – Sturdy Vegan Leather – Lots of Pockets – BPA & PVC-Free
Comfortably fits the Namaste Small, Medium, Large, and X-Large Oh Snap Pouch (not included)
A padded laptop pocket, 2 interior water bottle pockets, 1 zippered pocket, and places to keep your pens, notions, phone, and wallet organized
3 exterior front zippered pockets to also keep your odds and ends secured, 2 exterior water bottle pockets
Adjustable Backpack straps and a carrying handle
Contains a luggage strap across the back to wrap around your rolling luggage handle as you walk through the airport
1 – Craftevent Calendar – $130 USD each. Full kit included inside to make ummm (It's a secret).
Includes pattern.
Independent yarn to make a beautiful project.
Useful notions.
Reusable Box to re-gift next year.
1 – It's A Beautiful Whirled Kit – $85 USD each.
Two cakes of Scheepjes Whirl
One ball of Sugar Bush Yarns Drizzle
One Crochet Crowd Enamel Pin
One della Q Crochet Crowd Project Bag
It's a Wonderful Whirled pattern designed by Michael Sellick
Each giveaway also includes the complete collection of Crochet Crowd Pins (3 Pins each) and 1 Official Crochet Crowd Yarn Tote. Value $35.00
Shipping to your home is also provided.
General Guidelines
There is no sign up required to participate. Complete the project and email your photo when you are done. This challenge is open to all Crochet Crowd Community Members.
You may use any yarn you wish. You may create any colour scheme. Use as many or as little colours as you prefer.
You may do as many projects as you wish. If multiple entries are identical, a picture showing the projects together to prove there are multiple must be included with your submissions.
We require your photo to show the entire project so we know the entire project is done. Ensure your project is completely finished with yarn tails and etc not showing. It's like giving it out as a gift, we want to see the photo showing as if you were gifting us the finished product. This way we know you are completely done.
If you are changing your hook size or yarn, we are still looking for the pattern to be the same.
All photos must be submitted during the challenge time frame only. Entries after this due date will be accepted for our gallery but there are no prize giveaways after the deadline.
Your Choice: Post your finished project on The Crochet Crowd Facebook Page to show everyone your finished work so we can drool over your creativity.
When you email your finished photo to us, we respect your privacy and will only post your first and last name on the picture in our gallery with the photo so we can identify the winner at the end.
Featuring on Facebook is dependent on you. We do not upload your emailed photos to Facebook. You have to do that yourself if you want to Show N Tell your creativity.
We are not responsible for undelivered email and/or late entries to qualify for the prize.
Due to the countless technology platforms and services, we are not responsible for any of our challengers if mobile devices or technology that isn't compliant to being able to read our website, view our videos and/or get access to the free patterns.
All applicable federal, state and local laws and regulations apply. Void where prohibited or restricted by law.
Please verify your entry is in our gallery prior to our draw. We need up to 4 days to get your entry into our gallery. We upload it ourselves as part of our review process. If you do not see your entry, we most likely haven't received your email. Do not wait until after the draw to check if your entry is in. 
This is intended for a fun community challenge only. We each are deserving of the highest praise possible for our own creativity. Let's have fun.

How to Submit
Please read the guidelines below to understand what we are looking for.
Send your photo to us through email to [email protected]
Use Subject Line: Mandala Throw
In the email leave us the following information.

Your Full Name
Your Mailing Address

We will not be adding your name or email to our database.
We are accepting entries from Dec 26, 2019 to Feb 15, 2020 at 11:00 pm ADT. 
You can email at any time. 
We will email you if something is questioned in your photo.
You will not hear from us if your email didn't get to us. So if you don't see your entry after 4 days of submission, it means we haven't received it.
Past Stitch Alongs