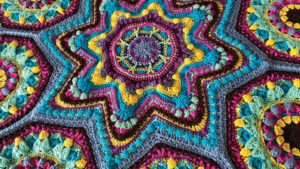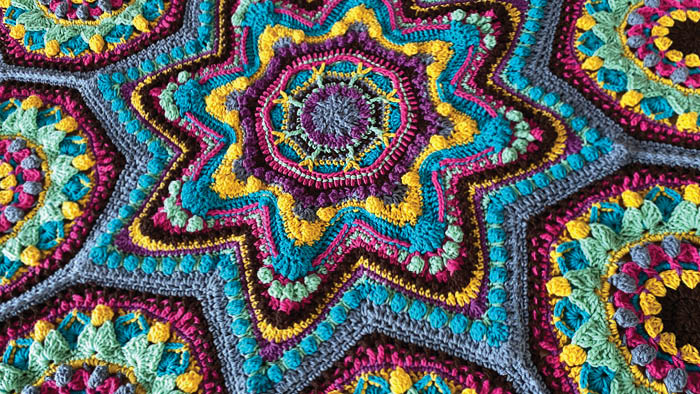 This is a sneak preview. I don't want to rush the steps so they can be properly tested and the pattern is written without a lot of added pressure. The estimated release is Early 2022. 
It is the blanket that gives me the honour to claim as being a designer as this throw is an essence of texture and methodical thought. But wait, there's more to the story.
Pattern Yarn and Colours Shown
Materials
Caron® One Pound™

(

454g / 16 oz, 742 meters / 812 yards

)
I am Canadian and do things in metric. I have yet to do the math and figure out the yardage and oz per colour used. 
Original Blanket

Contrast A

– Expresso, 1 ball – 183 g/298 m

Contrast B

– Sunflower, 1 ball – 239 g/390 m

Contrast C

– Purple, 1 ball – 142 g/231 m

Contrast D

– Aqua, 1 ball – 265 g/432 m

Contrast E

– Dark Pink, 1 ball – 238 g/389 m 

Contrast F

– Grassy Meadow, 1 ball – 260 g/424 m

Contrast G

– Medium Grey Mix, 1 ball – 270 g/440 m
Use size 6 mm, U.S. J/10 hook.
MEASUREMENTS Approx 58" x 58" [147 x 147 cm]
GAUGE 13 sc and 14 rows = 4" [10 cm]
---
The Push For Possibilities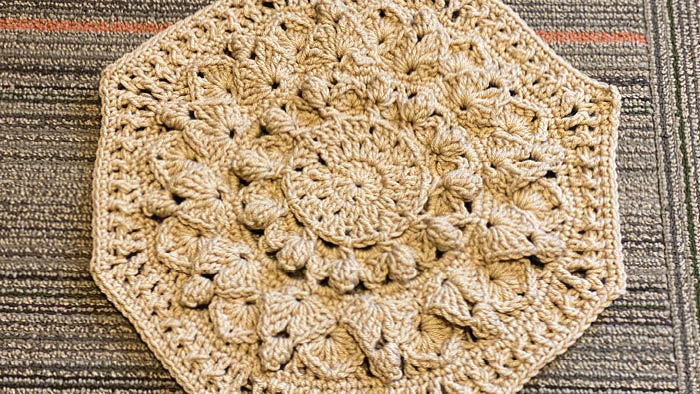 Diva Dan has the natural ability to point, suggest and also be the antagonist to do better. He can tell when I skimp versus trying my best. Sometimes that doesn't work in my favour as, at times, I am okay with settling. With this blanket, he kept saying to me, "You know it's possible, figure it out!" 
He gave his marching orders to do up 8 octagons and put them together and work backwards! Like who does that! Pahlease!
BACKWARDS? Is he sucking the yarn fumes a bit much… gee wiz!
I protested, more like whined and said, but that's a lot of work. He says you want to be a designer, prove it. Here's the challenge. He asks me, do you think it can be done and I thought, "Yeah, anything is possible but the question is my own personal motivation and what if people hate the idea!"
He told me to knock off the doubt and stop caring what others think in the design. You've done well if one person likes the design.
Stop being 'like that' and just try. I'm going to try, but I am so scared of failure! It's better not to try, therefore you don't face failure! He says stop playing games, try and see what happens! 
---
The March Forward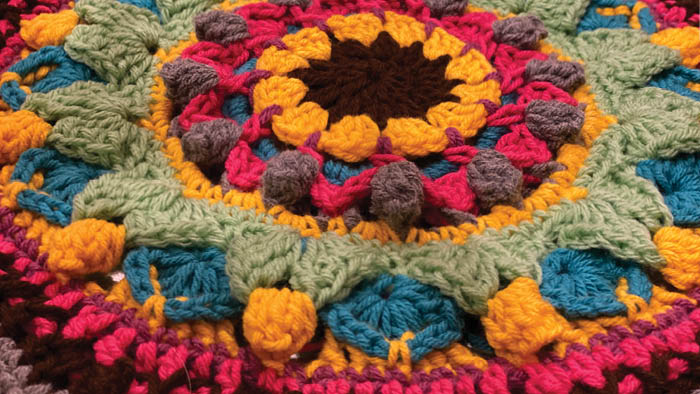 I crocheted the first example in a solid colour, which is typical so I can see the design without the influence of colour.
Daniel picked 7 colours from the Caron One Pound Line for me to try. Later the same day after the design was completed for the octagon, I mixed up the colours the best I could and it became the layout for the design.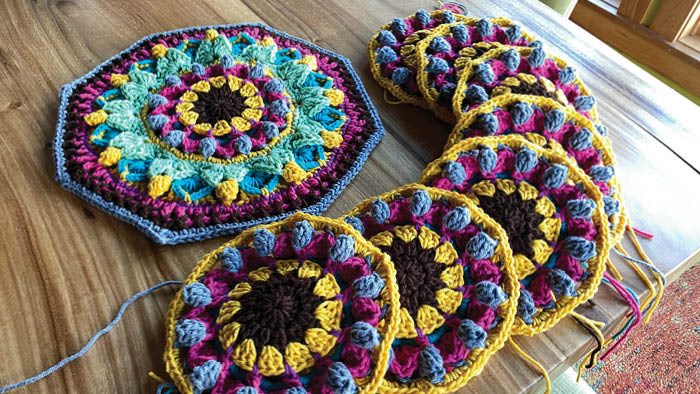 Like anything I do in this field, I do everything like an assembly line so I don't have to refer to the instructions often. With 1 motif completely done as the role model for the rest. I did the other 7 over 3 – 4 evenings. I started Dec 22, 2020 to put this in perspective.
I was anxious to see how on earth it will look puzzled together. So with eagerness now, I am hooked on the project. Don't tell Diva Dan now, I need to play the 'feel sorry for me card' as much as I can, you know!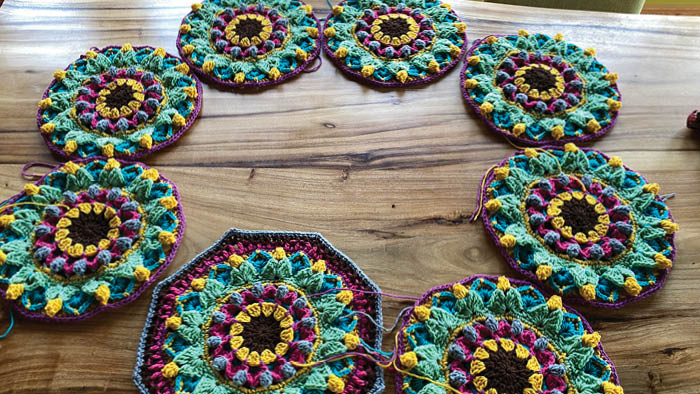 Of course, I have to lay this out once in a while to see the vision. Diva Dan has foresight, I have don't have the ability which is why I cannot decorate or pick colours. I lack imagination at times in this area. I can see stitches and stuff come together, but the colouring is beyond me.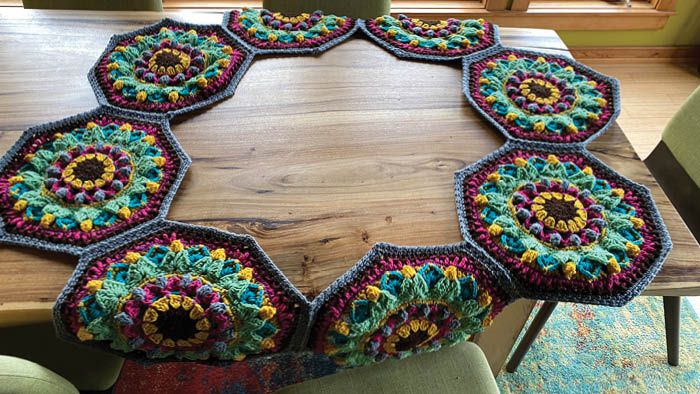 ---
I Blew Out Brain Cells
I blew out brain cells trying to figure this UFO project! OMG, I thought I was going to have a bitch fit. How do I start! Daniel would walk by.
"Figure it out!" OMG, say that to me one more time… don't test me! I'm not in the mood for your games!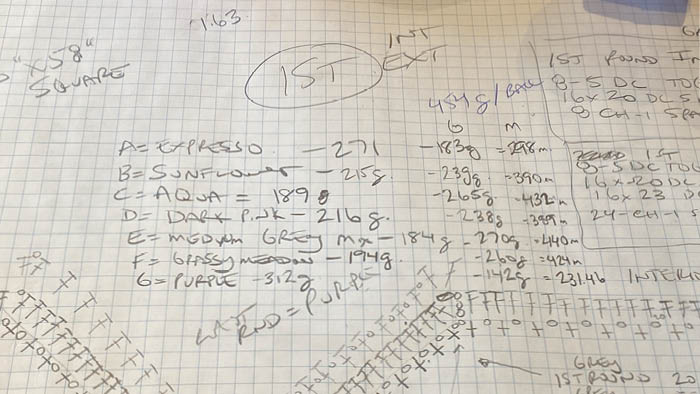 I graph everything and fill in data as I go. I figured out the outside perimeter first because it's something I could do.
I turned the graph paper upside down and forced myself to think backwards. I know how to do this, how do I get to step before this? 
Like a good boy, I started the first row of going backwards inside the wide gaping hole that is the bain of my existence! Mathematically it charted fine and lawd have mercy, it worked! You know that moment where you realize fear can be overcome if you try! Again, don't tell Diva Dan I said that! Might give him a big head!
---
Over 2 Days
Diva Dan would check on me to see progress. Like just get out of my space Satan, let Daddy do her work. In a gay house, our adjectives can be backwards, very much like this UFO.
In the obscene words of RuPaul. Daniel says I'm worried that you are going to cheapen the design by skipping textures and your signature look. You have so many possibilities and but in the wise words of RuPaul… "Good luck and don't fu$% it up!" 
That's the spirit! Encourage me with a threat! MMMM Hmmmm! Seriously have to re-evaluate this working relationship!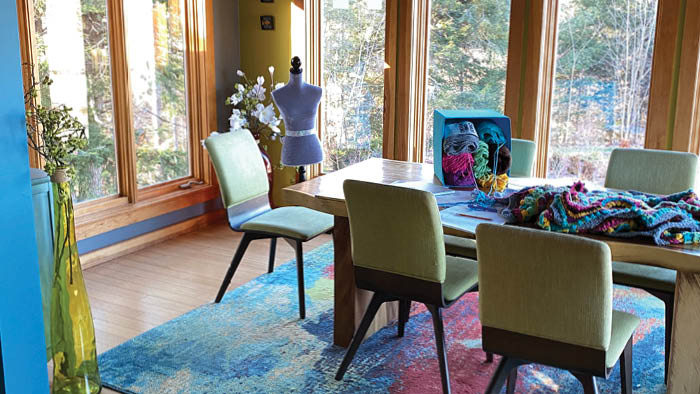 ---
The Fear Hit Me
I got the living fear hitting me after Diva Dan's final critique. I got this far and gawd, it was so amazing. Diva Dan was so amazed. You are doing so good, keep on going and see what other stitches you can toss in here!
Brain freeze! More stitches? Are you for real? Oh please honey, take a seat! 
The final pattern was ready for the JOANN Spring Stitch Along and this got shelved! Thank gawd! So it has been sitting since the beginning of January looking like this until this past week.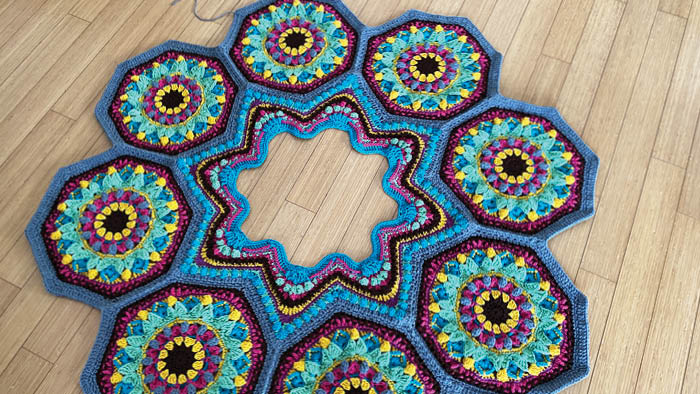 ---
The Nova Scotian Holiday
It was a holiday earlier this week and was a holiday in Ontario where Yarnspirations is. This means it's technically a day-off. So I thought, now is the time to bring this back out from the pits of hell and see if I can figure this out.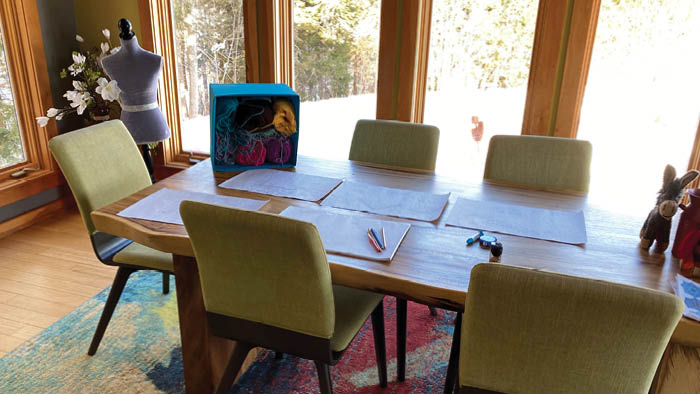 I pulled out my graph paper from before and my box of yarn so I haven't interfered with the yardage and weights of the existing balls of yarn.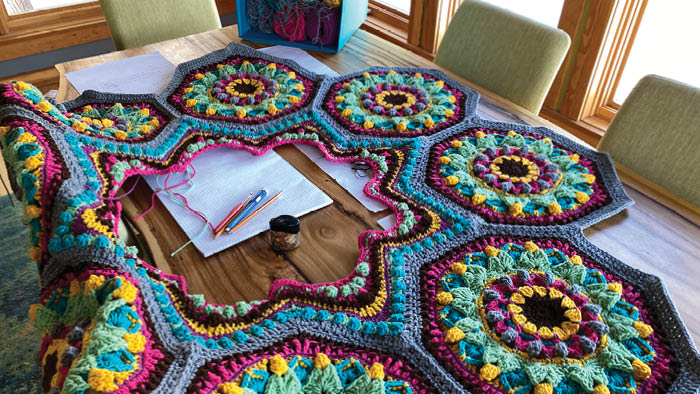 I was constantly checking to ensure it was staying flat but on graph paper, it was working out mathematically with each round I did.
I literally finished the blanket the same day I picked this back up. The fear was so strong and yet my solution was to sit down, think and keep going.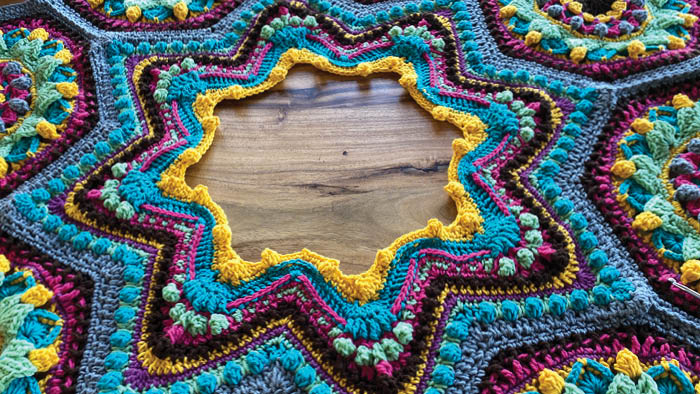 Taking pictures in major milestones on how it was coming together.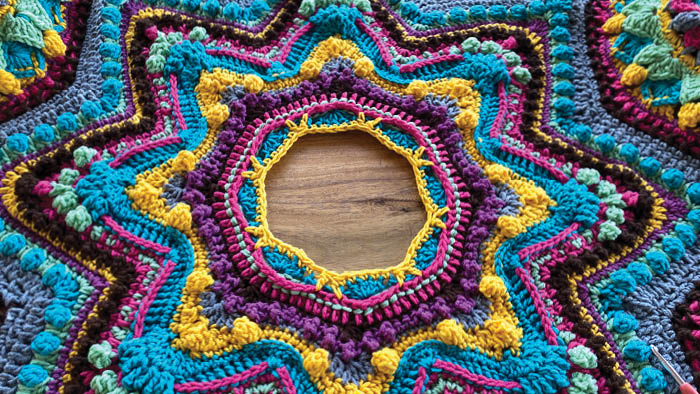 What you may have not realized, the closer you get to the centre, the faster the revolution. So for those doing this, the work gets less and less as you get to the middle.
We are used to speedy starts of blankets and then getting slower. This is backwards.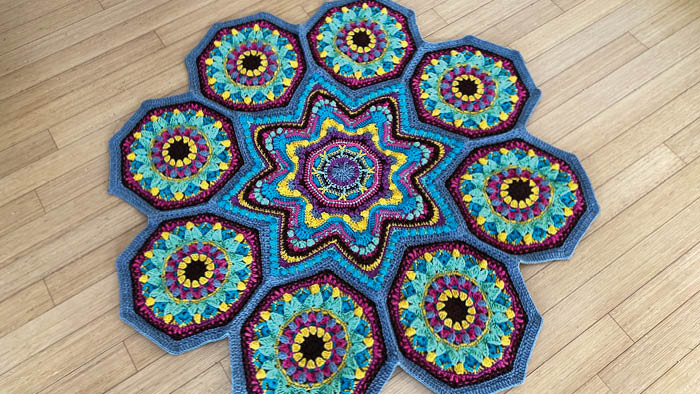 The damn thing sat flat throughout the process! I mean, that's just nuts! So it came time for the border. Our team has discussed borders when a border is too much and when it's not enough.
I felt that the crocheter will want to finish this soon after the middle is done. So it's just 2 rounds for the border. Batta Boom, Batta Bing!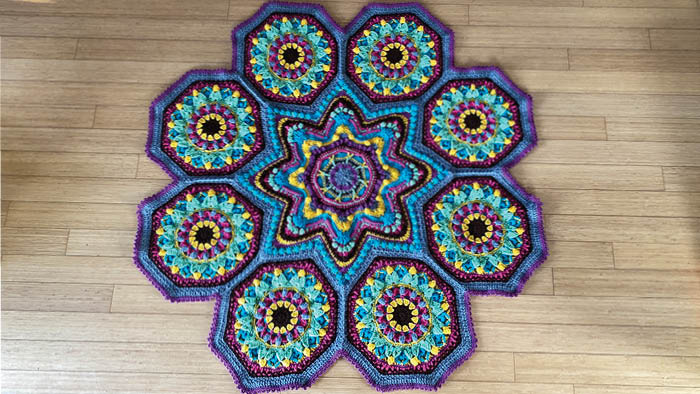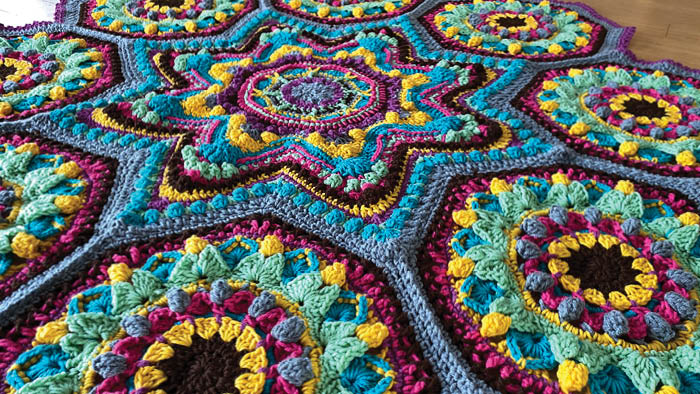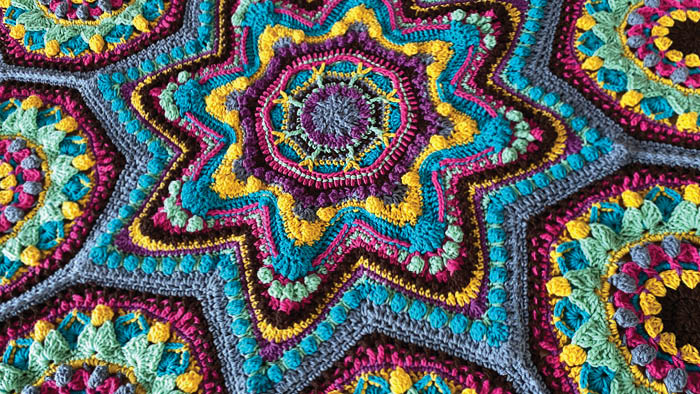 ---
At This Point…
I'm in process of converting my graphs to written words. It's been 3 days already.
I prefer to work at the dining room table away from my computer and office so I can concentrate. Eventually, the graph will have to be done on the computer and pulled from my notes.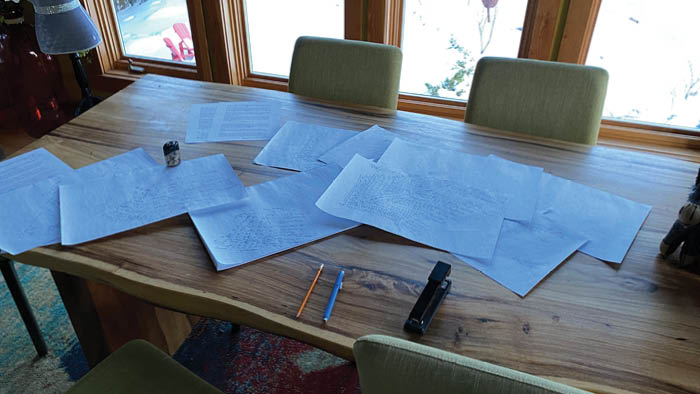 The testing team hasn't been activated yet because I am still writing the words. I figured out how to do the middle without the hexagons. Just using 1 colour so I can test my graphs I had written during the design.
I am writing the instructions from the original graph round first. Then try it on this sample to ensure the math is right. Once confirmed, I do the entire round.
Then restart again for the next round. So the writing is really slow but speeding up as I get closer to the middle. The stitch markers are fabulous!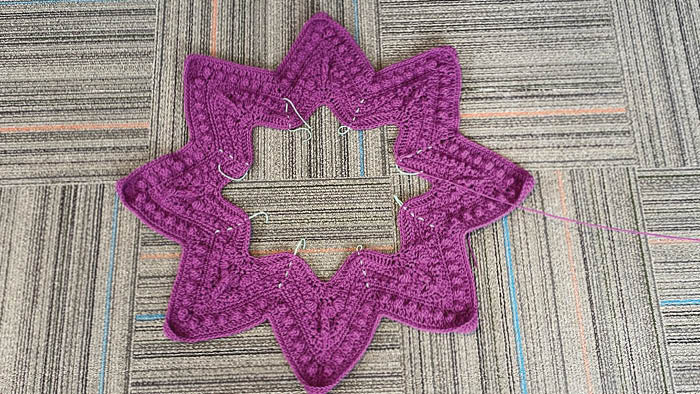 I am not going to rush to push this out. I need to ensure the pattern is going to work and be properly tested without pressure. We don't require testers as our team is full.
Tutorials
More to come in early 2022.
More Mikey Designs