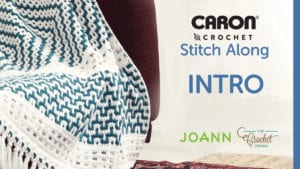 JOANN Stitch Along Spring 2020
This crochet blanket is called the Woven Pattern Mosaic Crochet Blanket designed by Erin Black for Yarnspirations.
It is a crochet stitch sampler and one of Erin's strengths is overlays and building patterns by having colours jump in front or behind stitches to form the shapes.
The blanket is 50" wide x 61" long.


Pattern Suggestions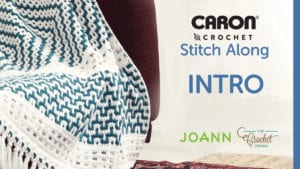 More About the Stitch Along Blanket
The blanket has been made in 4 different colourways and is designed to challenge you. It is an intermediate level project with tutorials to help you along the path. Extra attention by the designer has been added to the pattern for visuals and further understanding. This is truly an opportunity for easy level crocheters to advance up a notch in skills.
For myself, I used Version 4 as I have cats and the gray and purple matched my decor but also hides the hair of the cats well. The blanket takes the following yarn quantities to make it work:
3 Balls - Caron One Pound Main Colour, 2436 yards
2 Balls - Caron One Pound Contrast A (Secondary Colour), 1624 yards
1 Ball - Caron Jumbo Contrast B (Peek A Boo Colour), 595 yards
You can click the picture below to save it or even print it to take it shopping with you. Some of the colours are exclusive to JOANN, so you will only find them through their website or in select JOANN Retail Stores.
I have provided the combined yardage for each colour above for your convenience.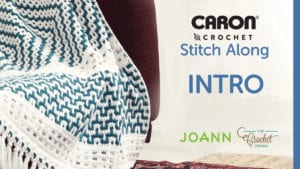 Shopping List
You may also have this yarn in stock.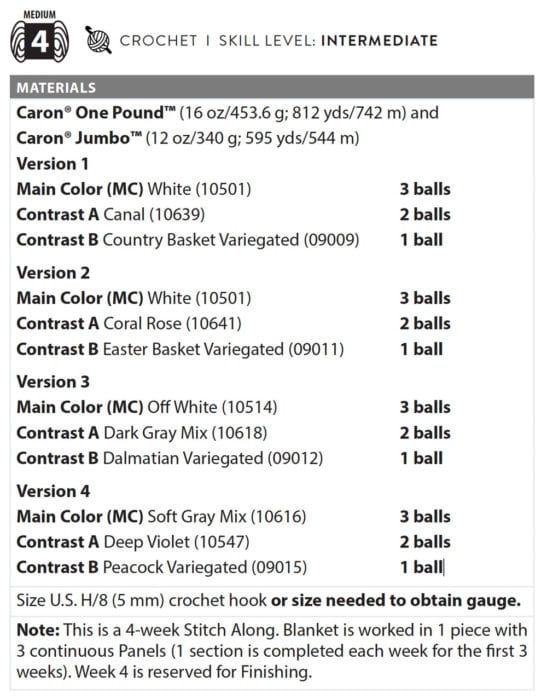 Video Introduction
Videos are closed captioned by our CC Team, Diane and Nancy.
There were many requests that came in for the Stitch Along to have challenging concepts and Yarnspirations delivered such a beast. I truly believe this is one of those projects where you may have the opportunity to self-celebrate your own skillset building in real-time. I think we will see people expressing happiness when the afghan starts coming together.
How the Tutorials will Work
Each week, starting Monday, March 23, 2020, there will be a new section of the blanket.
The blanket starts at the bottom and goes up. Week 1 will cover the first three sections. Week 2 is the Chevron Chain in the middle. Week 3 is the last 3 sections and finally, week 4 is the edging and fringe.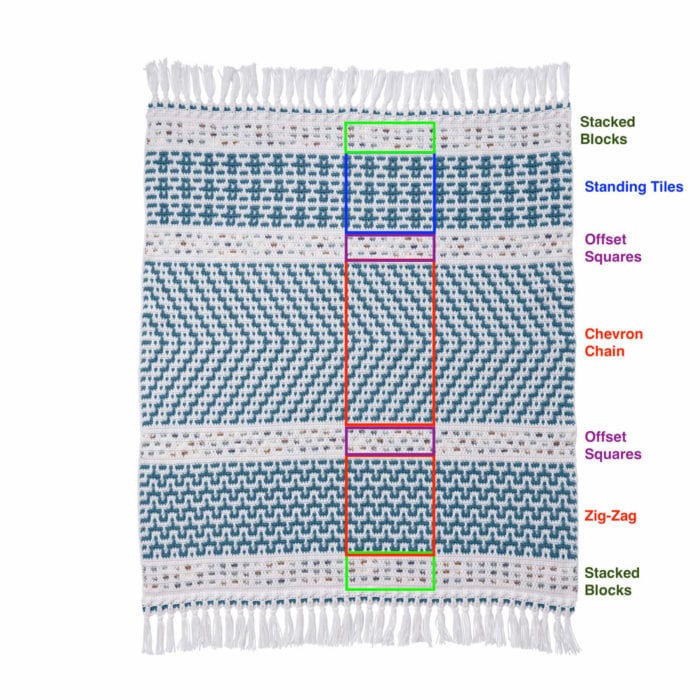 Week 1 - March 23
Week 2 - March 30
Week 3 - April 6
Week 4 - April 13
Example of Erin's Designs
Erin designed the Crochet Buffalo Plaid Blanket back for the Canada 150th Birthday. The concept for this particular crochet blanket is simple, yet looks complicated.


More About the Stitch Along Blanket
It's not a motif-based project. It's a one-piece afghan.
The afghan is a rectangle.
We have figured out the stitch multiple in the event crocheters want to change the size. However, the yarn difference is up to the crocheter to figure out.
As always, the pattern includes written instructions, diagrams and my video tutorials to follow it up.
The afghan is gift-worthy.
Once you see the pattern unfolding, the project will reveal its secrets.
There will not be any giveaways associated with this stitch along. You will have free choice on how you do your afghan in being able to add more stitches, subtract stitches, it would be too hard to regulate a minimum standard for prizing. It's a great afghan as it is, I have learned a lot and ultimately that is the prize.
Crochet Stitches to Learn
In the crochet mosaic concept, you will be able to learn these stitches and use them in more projects in the future.
Stacked Blocks Mosaic
Zig Zag Mosaic
Offset Mosaic
Chevron Chain Mosaic
Standing Tiles Mosaic
Stitch Alongs