Reading Time:
2
minutes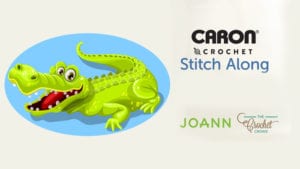 JOANN Stitch Along Spring 2020
The JOANN Stitch Along for this year is planned for release on March 23, 2020. Photography and final pattern have been completed at this stage. Designed by Erin, one of the Yarnspirations Designers.
There are some changes, compared to what we are used to for the stitch along this year. Changes that I think you will really appreciate. I won't say what they are yet just in the unlikely event plans change and you hold me to my word. 🙂
I really wanted something to teach that had challenging concepts as that is the point of a stitch along. Yarnspiratiosn really delivered this time around. BIG TIME!
I can give you some clues:
It's not a motif-based project. It's a one-piece afghan.
It's not using Bernat Blanket.
The afghan is a rectangle but not an afghan that is done in the round. It's row by row.
I have figured out the stitch multiple in the event crocheters want to change the size. However, the yarn difference is up to the crocheter to figure out.
As always, the pattern includes written instructions, diagrams and my video tutorials to follow it up.
There are 4 weeks in the stitch along. Week 1 – 3 is the main body of the afghan. Week 4 is the finishing up and final touches. There are a variety of stitches, so far as I am filming, I am learning new stuff which I hadn't done before.
The afghan is gift-worthy.
Counting isn't manic. Meaning, once you see the pattern unfolding, the project will reveal its secrets.
Best of all, I think most people who will finish will have a sense of great accomplishment.
Filming is Underway Now
As of January 10, 2020, filming has started so I can be done on time for final approvals. That's all I can say for now. Stay tuned further into this winter for updates.
There will not be any giveaways associated with this stitch along. You will have free choice on how you do your afghan in being able to add more stitches, subtract stitches, it would be too hard to regulate a minimum standard for prizing. It's a great afghan as it is, I have learned a lot and ultimately that is the prize.
Stitch Alongs