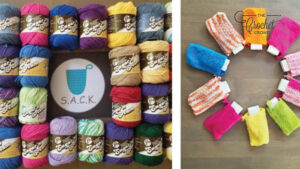 Soap S.A.C.K. Charity
Who's is up to making Soap S.A.C.K.s. Over 100,000 soap sacks have been made since 2017 when a grassroots idea of creating knit and crochet sacks. These benefit homeless shelters, food pantries and transitional housing centres. They are a registered public charity organization.
When the sacks are handed out to those in need, the packaged soap is inside. The sack allows the receiver to use the soap and put it back into the sack for next time they need to use it again. Keeping their soap for personal use.
They have free downloadable instructions and also printable Soap Sack Tags to attach to the sacks. Remember to use only 100% Cotton Yarn as it can withstand being wet and can be washed and dried with ease. Recommending Lily Sugar'n Cream, Bernat Handicrafter or even Peaches and Cream.
These are small projects which can pass the time away quickly and allow you to build a super package of many sacks for when you are ready to send them on their way. They also have recommendations on where you can donate them as well.
If this is something that interests you, be sure to visit their website and make informed decisions on how to get started. It's the Soap S.A.C.K. website.
Please note that we are not affiliated with this program. I found this online and thought it was an interesting feel-good charity concept that is easy to participate with.
More Ideas

Tutorial
Stacy with Soap S.A.C.K. will be glad to show you how to make a crochet soap sack.
More Blanket Patterns