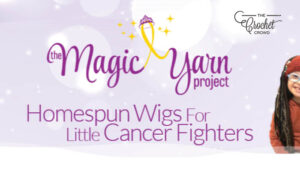 Crochet Magic Yarn Project
The Magic Yarn Project may be just the project that will tug at your heart. The gift of making a fantasy wig for "world of play and daydreaming" for a young child. A registered non-profit organization.
Founders Holly Christensen and Bree Hitchcock started this small idea and went big with spearheading the concept of group yarn lovers to create something extraordinary. With leaders now across the USA and even into Mexico. You, too, can get involved in being the difference.
Many approved yarns, due to skin sensitivity, are accessible yarns we may have in our own collections. They even accept yarn donations but the donated yarn must be new and from smoke-free and pet-hair-free environments. They also accept donations as low as $25 and it can be reoccurring. With the cost of the creation, which includes shipping, it's about $50 to create and deliver just one wig.
Whether you are a 'Magic Maker' or just a donation giver, your gift of time or supplies will be well received. To find a local organizer near you, you can access their menus for various items which include details about the wigs, patterns and much more.
More Ideas

The Story of The Magic
A Crochet Crowd Community member referred us to this organization. I hadn't heard of it before. I reviewed the details and it's really a beautiful story that is truly making a difference to others. We are not affiliated with this organization or its donation or fundraising campaigns. I am merely sharing what we learned. If you have any specific questions,  you are best to use their website to contact them. 
More Blanket Patterns