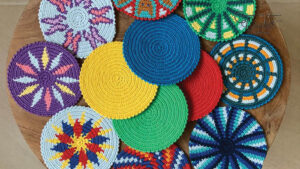 Crochet Mochila Coasters
Marion Verloop has just released a collection of Crochet Mochila Coasters Patterns. This is also known as Wayuu Crochet, concept by the Wayuu Tribe of Colombia. The pattern is $3 EUR which includes 8 designs for the fancy designs and 1 design of just straight solid colour. Speaking bluntly, all of those designs for $3 is really an amazing opportunity. Even with CDN to EUR or USD to EUR, it's still an amazing buy.
Marion is a world-leading crochet designer for this concept. She has tutorials for stitching techniques. She has paid and free patterns alike on her website. You can visit her website simply called Marion Verloop.
Marion was instrumental in our live workshop onboard one of the Crochet Cruises we did. Suggested to me by a friend, Rita, who enjoys tight crochet with practical use. When I say tight, I mean it. This concept isn't for everyone. Marion provided us with a pattern to use on the ship. Seeing Marion provided us with a pattern to use on the ship, we have a cross-promotional relationship to share her concepts as they come out. These designs take a long time to create and write up. When I say a long time, it's months in between projects as they take time and attention to detail. Her instructions are second to none, in my opinion.
As I have gotten older, in person, and longer in my crocheting abilities, projects like these are what I would refer to as a stitcher's journey. Meaning, it's not about the speed or the size of the project. It's literally watching something so amazing come from your hands. If you are in North America, I personally recommend Patons Grace for these. You will not be disappointed.
More Ideas


Tutorial
Introduction to Mochila aka Wayuu Crochet.
More Blanket Patterns
No post was found with your current grid settings. You should verify if you have posts inside the current selected post type(s) and if the meta key filter is not too much restrictive.