6 Crochet Patterns For Mom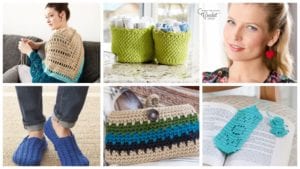 Starting from an early age one of a mom's favourite gifts has always been one from the heart, ones that were made by tiny hands. That really doesn't change as we get older other than those tiny hands become a little bigger and the creative talent expands.
These 6 crochet gifts just for mom are fun little patterns to show your loved one you are thinking of them. Make your Mom, Grandmother, Mother In Law or favourite Aunt. Crochet a gift from the heart, a basket filled with their favourite treats, slippers to keep their feet warm, or a shawl to wrap them in a hug when you aren't there. Happy Stitching!
---
Crochet Comfort Shawl Pattern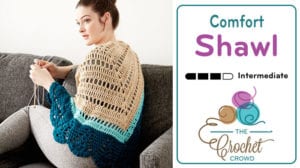 Give the gift of comfort with the Crocheted Comfort Shawl a hug when you aren't there for your loved one. It's a very elegant and cozy shawl, great for curling up reading or crocheting, or an evening out.
This easy to crochet shawl made with Caron Simply Soft starts at the top middle and works downward. The shawl will get to its final size before starting the incredible fringe border at the end. Play with the Caron Colours work this pattern up in your favourite ones.
The pattern includes the diagrams to use. The tutorial uses the shawl diagrams to illustrate on the steps as we progress through.


Crochet Scalloped Edge Basket Pattern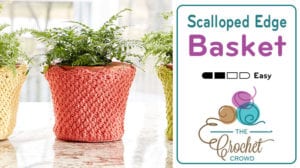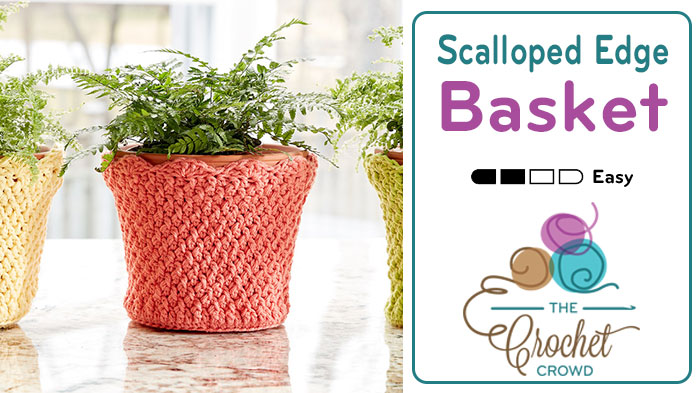 Crochet these really awesome Crochet Baskets that can double up for a flower cozy, or use it to fill with treats.
Using Lily Sugar'N Cream Yarn these are perfect and sturdy enough for this type of use. This cotton is vibrant and durable for everyday use. Due to the material being cotton, you don't have to worry about this yarn getting wet and drying again.
This is a very straight forward pattern with a solid circle base that grows straight up the sides. The picture shows the basket growing outward to the top; however, that's because the flower pot is causing the fabric to stretch and form to the shape. If nothing is inside, the basket is just straight up.


Crochet Be Still My Heart Earrings Pattern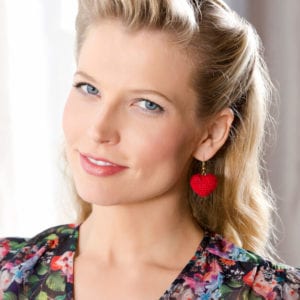 Who doesn't love earrings, especially ones that come from the heart and ARE hearts! Show the mom in your life how much they are loved with these cute Be Still My Heart Earrings. This pattern is easy and works up rather quickly making them a great gift for really any occasion at all.
Designed By Carlotta L. C. Craig these Be Still My Heart earrings are made with Aunt Lydia's Classic Crochet Thread making these hearts dainty and a lovely gift. There are some really pretty colours in Aunt Lydia's thread these earrings would look lovely in any of them. You could also make the Heart in Red Heart Super Saver and make it into a broach.


Crochet Bookmark For Mom Pattern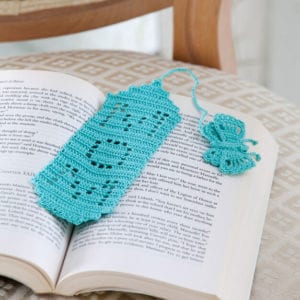 I love to read, thankfully its something my kids picked up from me as well. This Bookmark for Mom would make an amazing gift for not only mom but for any book lover, there is a chart included so that you can personalize it with any word or name you like.
This really pretty Crochet Bookmark For Mom Pattern was designed by Carlotta L. C. Craig made up using Aunt Lydia's Classic Crochet Thread. I find patterns made up with this thread, is so dainty and pretty looking. This bookmark I would honestly contemplate making in the kid's names joining them and getting it framed then hang it with their photos. This Bookmark is a great foundation project to grow on and make it your own special little gift.


Crochet Dynamite Eyeglass Case Pattern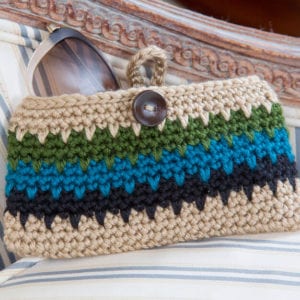 I am ALL the time either losing my case or forgetting where I put my glasses because I can't keep track of the case. Sunglasses are a whole different story. This Dynamite Eyeglass Case is the best gift we didn't know we needed, especially if the person you are making this for is a glasses or sunglasses wearer. It would also make a great little pouch for cell phones.
Glasses cases are actually something that I get asked about fairly often, at craft shows, usually by someone wanting them for their sunglasses to keep them safe when in their bag or purse, or from wives looking for their husbands to put their glasses in. As glasses and sunglasses wearer, I get it!
This Dynamite Eyeglass Case was designed by Salena Baca made using Red Heart Soft this is definitely a great gift for keeping those glasses, sunglasses or cellphones safe.


Crochet Sunday Loafers Pattern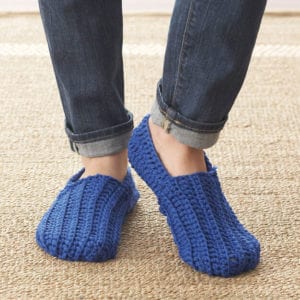 Now that we have made our moms a shawl to wrap them in a hug, earrings for some yarn bling a basket filled with treats it's time to take care of those feet, with these lovely Crochet Sunday Loafers.
With just one ball (women size) of Phentex, you can whip up this lovely gift, who doesn't love slippers especially on those chilly days, I hate wearing socks I avoid them as much as humanly possible. But I love wearing slippers, odd I know.
These slippers are made in the round for the foot part than rows decreasing for the heel section. one of the easier patterns I have read for slippers because I love pompoms I would more than likely add a small one on the top of each of them.


More Crochet Pattern Ideas
More Crochet Slipper Ideas: