6 Fabulous Shawl Patterns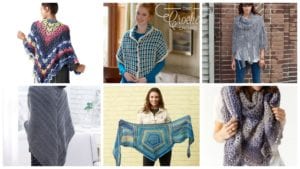 Wrapped yourself up in a shawl, it's a hug that you made your self! I love shawls, I have a *mumble* *mumble* amount of different shawl patterns on the go right now, looking on Yarnspirations really doesn't help with that number because it seems like every time I  go on I find another one I can't wait to start.. then I don't wait I start haha. Ther perk with that is they all seem to get finished around the same time too so it seems like I have been super busy, in reality, I'm a serial starter.
This fabulous shawl collection is a few patterns that I wasn't looking for I actually went on looking for blanket patterns because I have the yarn I want to make myself a blanket, I got a little distracted… I'm obsessed with shawls, they're just so quick to make and easy to grab on the way out the door. Most you can do with pretty much any yarn you have around the home they're usually an easy repeat, and I thought it would be fun to share some of the shawl patterns I picked out to do with you!  Crochet is really only a part of the hobby, it's a 3 part hobby, one is collecting the patterns, 2 collecting the yarn and 3 the wip's.
---
Oversized Style Crochet Shawl Pattern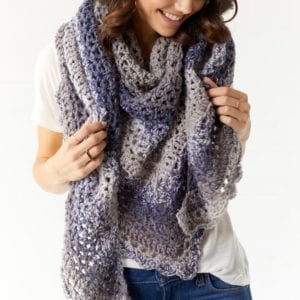 I am a sucker for the bigger sized shawls and just finished printing off this Oversized Style Crochet Shawl Pattern to make. Larger style shawls I some times like to add arms to and make Sharms I find they stay on better. Some I leave normal so that they can be worn like in the photo, this is why it's lovely to have a large variety of shawls one for every mood and I have a lot of those haha. Shawls are also one of the things I get asked most often for my family members when I ask what they would like for Christmas. I'm pretty sure it's just my obsession spreading, but I don't mind one little bit I love making shawls almost as much as I like collecting shawl patterns.
This Oversized Style Crochet Shawl Pattern is an easy level pattern made in the Red Heart Roll With It Tweed, designed by Toni Lipsey. I'm currently making a shawl with the Roll With It yarn and I love working with it, it is so nice to work with and I love how the colours fall. This yarn is defiantly one I would stock up on for future shawls.


Classy Pentagon Crochet Shawl Pattern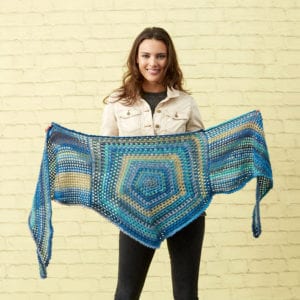 This is a super cute shawl, I am really liking that it's a different shape, not the usual triangle, it also reminds me of a Ruana which I also really love those as well so it's really no surprise I guess that I like this one too.
This unlike most normal shawls this Classy Pentagon Crochet Shawl Pattern is made up of three separate pieces, the center five-sided shape, then the two sides "wing" pieces.
This Classy Pentagon Crochet Shawl Pattern was designed by Ellen Gormley made using Red Heart Unforgettable, it's such a lovely yarn.


Blissful Moment Crochet Shawl Pattern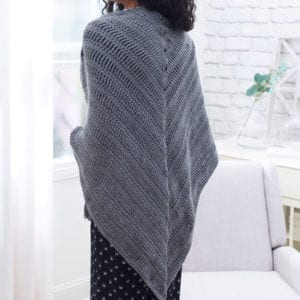 This beginner-friendly shawl is a great simple shawl, a really good one if you found some really pretty yarn that you want to work up to see the colours without a lot of textures to distract from it.
This Blissful Moment Crochet Shawl Pattern is a great craft show pattern one you can easily work on while sitting there watching tv in pretty much any yarn size you have that you would like to use. Just remember to adjust your hook. This would be a lovely shawl for those variegated yarns like the Red Heart Unforgettable.
This Blissful Moment Crochet Shawl was designed by Corina Gray she made it using the Red Heart Super Saver, but you could really use almost any yarn for it.


Crochet Sidewalk Shawl Pattern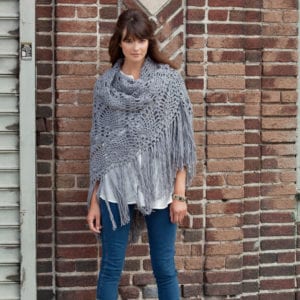 This pattern is a little harder than the others, but it's so pretty, using the very popular Pineapple it's such a dainty shawl, great for a slightly more dressy outfit. I really like the long fringe on this Crochet Sidewalk Shawl Pattern but I like fringe on shawls sometimes, I find it gives it a different look, I would love to see one worked up without to see how big of a difference it makes.
This Crochet Sidewalk Shawl Pattern was designed by Kimberly K. McAlindin made using 6 balls of Red Heart Soft, but you could easily use Super Saver or something in the same gage if you prefer. This would be pretty on in the ombre as well.


Crochet Buttoned Shawl Pattern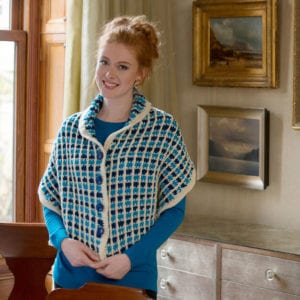 I am a big fan of all things unique, so this little shawl appealed to me right away, The fact that it buttons is so practical. If you know someone who is often cold, or someone who works in a chilly office this shawl is perfect, it stays on keeping their shoulders warm but not to the point of overheating as a sweater would cause. This Crochet Buttoned Shawl Pattern is the best of both worlds, the warmth of a sweater but the coolness of a shawl.
This Crochet Buttoned Shawl Patten was designed by Susan Heyn made using Red Heart With Love, or any worsted weight you would like to use instead. There are some really fun colours in the Red Heart Super Saver that this would look fun in.


Shells & Clusters Crochet Shawl Pattern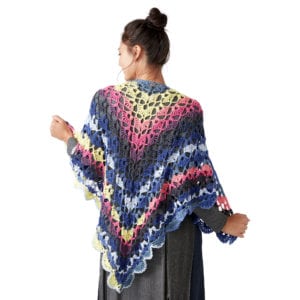 I was out shopping yarn a few months ago and came across this most wonderful yarn the Caron Skinny Cake that I had never seen before, the colours in these cakes were so lovely I had a hard time picking just one but I managed, I actually picked the one with the colours worked up in the shawl, so when I came across this pattern on one of my many shawl hunting days, I knew it had to be the one I used the cake I bought on, I mean really could the universe be any more obvious.
So right away I printed off this Shells & Clusters Crochet Shawl Pattern I have started but it fell victim to my inability to only work on one project at a time, but let me tell you that one row I have managed to actually finish is amazing, so when the rest is done it will be stellar. Now to train that squirrel to run a straight line would be super. ( I know some of you totally understand what I mean there)


Pattern Suggestions
More Crochet Shawl Patterns