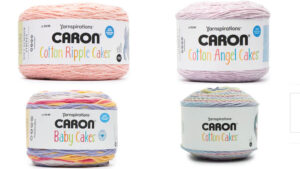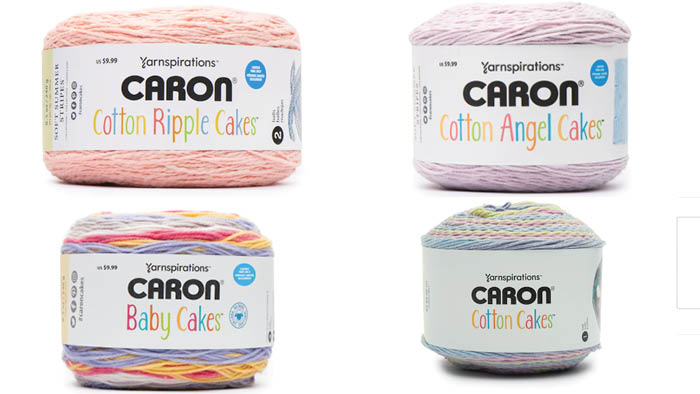 I enjoy long slow walks down the yarn aisle. I love to touch Caron Cakes, dream and bring home these fantasy fibres and play all night long.
Caron Cakes and their extension lines like the ones you see are exclusive to Michaels North America, made by our friends at Yarnspirations.
Spring 2021, the bakers have been whipping up more temptress yarn to tease our hooks and imaginations with yarns that make us moan ahhhh, ooooooh. We may even scream obscene things like "Where's my coupon!" or "Feel this Yarn!" or "Show me what you did with your yarn!" or maybe, just maybe, "I'm locking myself in my room for hours, I'll come out when I'm done!"
I love these cakes, they are fun, addictive and I love how the colour journey can shape our creativity to feel joy. Okay, enough yarn-play, let's talk about these fibres!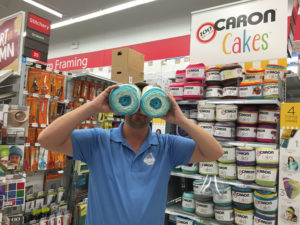 ---
Cotton Angel Cakes
I know what you are possibly thinking, "What the hell is this?" ooopsy, I meant, "Good heavenly gracious, what could possibly be different about this yarn!" Okay, I saved myself, I think! GULP!
Cotton Angel Cakes is a different formula of Cotton to Acrylic Mix. I mean, the colours like Heather, Faded Jeans, Sea Salt, Dark Cocoa, Coral Rose, Sunny Day, Summer Sage and Pepper! It's self-striping. I'm really into colour sage lately. Like really into it! MORE MORE, OH YEAH, MORE! OMG, I need to calm down or there's going to be a brand new line called Caron Moist Cakes! Okay, I'm going to hell!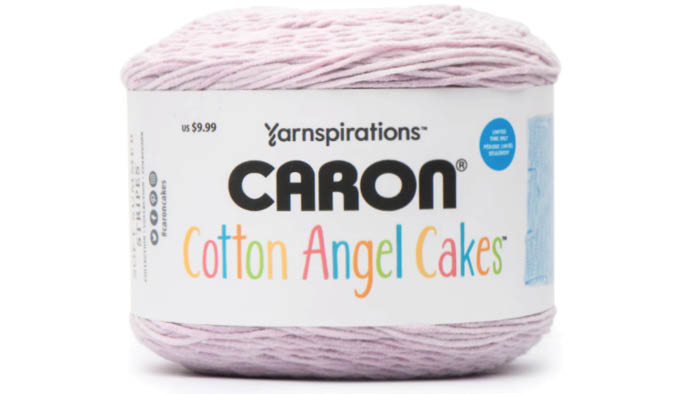 The Crochet Shawl on the Bias is a brand new pattern featuring Caron Angel Cakes Yarn. Click here for the free pattern or Click the Picture.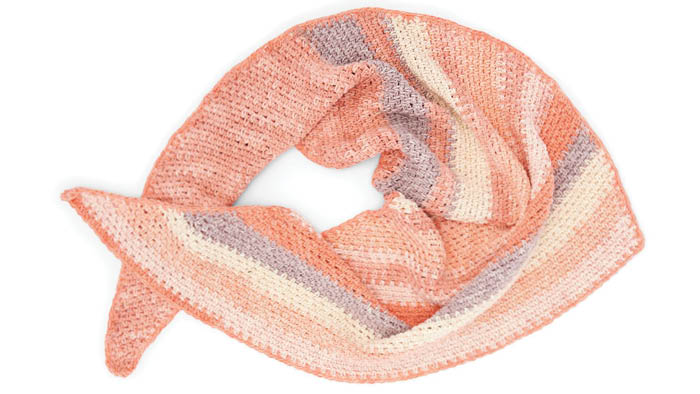 ---
Caron Baby Cakes
In the wise words of Carol Anne from Poltergeist, not sure she said anything wise but work with me here! I'm pulling straws, "They're Here!" Say it in her creepy voice as the TV is flashing and that hair popping music begins to play! Omg, my hair stood up on my head as I had to check this saying on YouTube! I seem so dark this morning!
One of Jeanne's favourite yarn's that makes her squeal. She will be running down the yarn aisle with a cart making no apologies who she 'accidentally' bumps getting to the aisle. She loves this yarn so much. It's the original Hugs & Kisses that was done in Caron Baby Cakes. New colours like Candy Hearts, White, Grey Owl, Retro, Lavender, Rosey Red, Ice Aqua, Duckling, Primary, Petals, Pool Party, Skygazing, Aqua and Pink Lemonade.
We learned of this yarn yesterday, Feb 10th, 2021 and Jeanne was going to bee-line to her local Michaels after work. They were still setting this new section up. She's going back as she has plans and they are multiplying… she's about to lose stitching control. You better hook-up… woot woot wooo! You're the one that I want! ewww ewww eeeeeeeew! It's electrifying.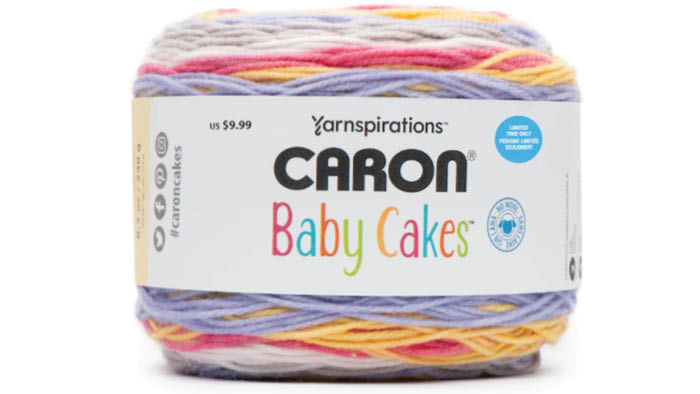 The Crochet GEO Baby Blanket has striping and an intentional strategy for the mosaic design. Click here for the free pattern or click the picture.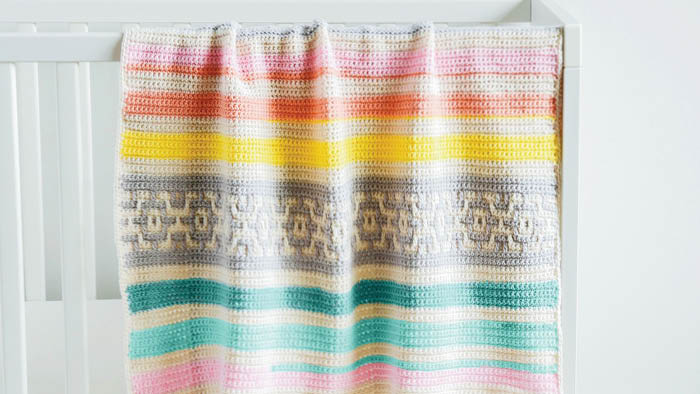 ---
Caron Cotton Cakes
I love this yarn so much, Pee Wee Herman would say, "Why don't you marry it then!" I'm not going to put a ring on it but it's definitely going to get some hooking action.
Caron Cotton Cakes remains one of my favourite yarns for 2021. Last year, I went a bit nuts three times at my local Michaels. Yeah, I admit it, I was lost my marbles and with the pricing they had, 3 shopping carts later. I couldn't get enough!
My first book out next year is using this yarn as an option in the one main project. It turned out soooo good! Like really good! Like frigg'n fantastic!
I love how this yarn teases my fingers with a yearning for more as it passes through yard by yard. I'm totally cheating on my Caron One Pound with this but I don't care. This yarn is fantastic.
Oh Oh, where was I. Yeah, new colour shades such as Frozen Yogurt, Sunflowers, Green Grapevine, High Tide, Wild Blueberry, Sea Lavender, Light House and Grayscale. and no, not 50 shades of gray-scale though this article could suggest that I'll plead the 5th! OH LOOK, shiny thing over there! —>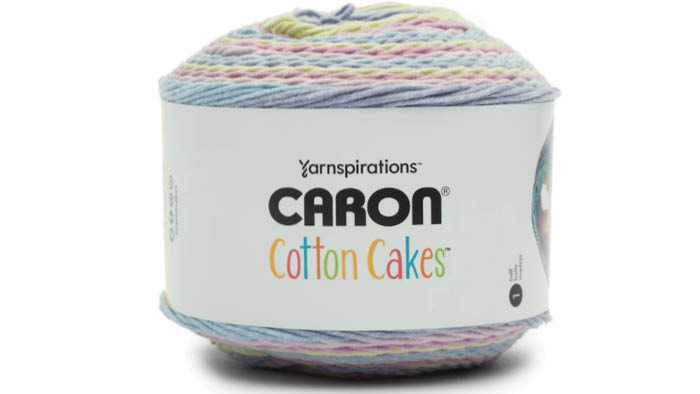 The Crochet Textured Tote using Caron Cotton Cakes. This is an older design but a great design you can use your new colours with. Click here for the free pattern or the picture below. A free tutorial is also available as well.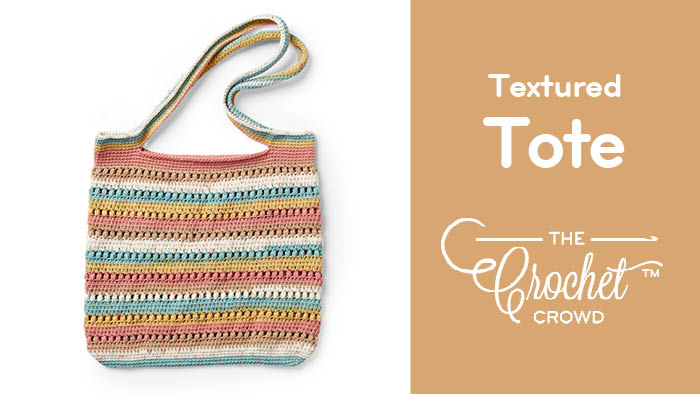 ---
Caron Cotton Ripple Cakes
Okay, this yarn had me at cotton but then there's the ripple in the yarn ball too. What is this evil magic! Caron Cotton Ripple Cakes looks different. Yarnspirations says in their write up, there's more than meets the eye! I like different, tell me more… tell me more…
It's a lighter version of 100% cotton! OMG 100% cotton you say! Hang on a sec, where's the tissue box, I'm salivating. This is perfect for things like open weave shawls, sweaters, beach cover-ups and more.
I need to touch this yarn! It's new, completely new and I need this in my collection. Colours like English Lavender, Mauve Glow, Copper Rose, Meadow, Wildflowers, Summer Rain, Blush, Clay Pot, Sunflare, Clearview, Breeze Blue, Plum Fade and Flagstone!
I cannot decide which one is speaking to me directly. Love the shades of this yarn.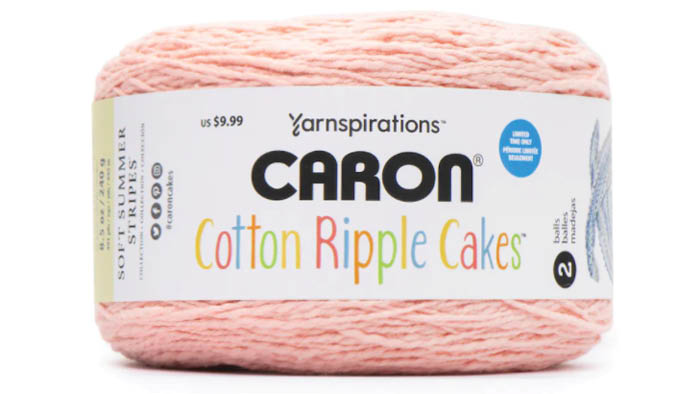 The Crochet Rainy Day Shawl is showcasing the colour details for Caron Ripple Cakes. Click here for the free pattern or click the picture.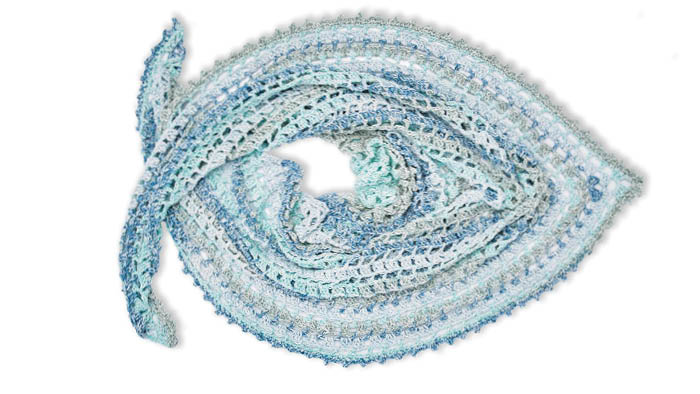 More Collections