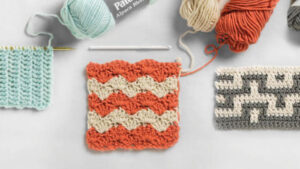 The Crochet and Knit Feel Good Wearable Patterns, which include a blanket for comfort are stitches that make you feel good in accomplishment.
In the round-up, you will find things like the mosaic interlocking stitching that is in scarf and blanket format.
I have provided additional tutorial help at the bottom of the article for mosaic. The one is a dishcloth and the other is the blanket you see in this round-up.
More Ideas

Tutorial
More Collections