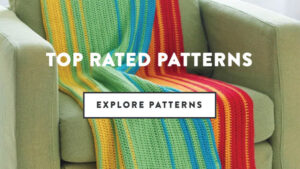 The Best Rated Patterns of 2020 were voted on by stars and a written critique. You may not know, on every pattern on Yarnspirations, you can vote a pattern between 1 to 5 stars.
There are some patterns that truly missed this opportunity, to my point of view. The reviews, like shopping on Amazon, help others with tips and concepts that a crocheter or knitter may have had. Myself, I feel bias, being a Stitch Ambassador of Yarnspirations but I really should anyway. Usually, when I teach, I can have ideas or helpful tips but they are usually in the videos.
Next year, you can totally change the outcome by giving the pattern a rating and constructive or positive comment. For this year, this is the most rated pattern of 2020.
More Ideas

More Collections