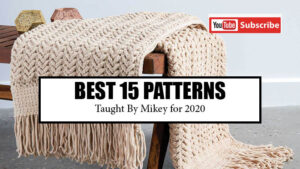 Producing Tutorials is what we do best, in fact, it's what started this journey in the first place.
Teaching is not too hard but sometimes a video needs the viewer to know more than what is spoken. Small things like already knowing how to hold a hook to larger items on knowing how to read a diagram. I try my best to break it down but I am not always successful. Being global, many of our viewers have English as a second language.
Our videos are subtitled which can be translated into many languages but also can assist those that are hard of hearing and deaf.
Here's our Top 15 List of Most Used Videos
Click on the picture to get the free pattern and/or see the tutorial.
More Collections