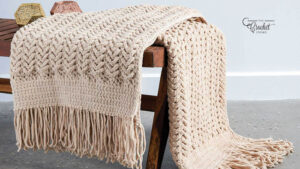 The Crochet Herringbone Blanket pattern is an easy repeat once the foundation of the stitching is solidified.
The pattern has the herringbone section completed first and then the Single Crochet bands are crocheted to both ends of the blanket afterwards.
Finally, the trim of the entire blanket and fringe is applied. Of course, if fringe isn't your thing, you don't have to add it.
Free tutorial is below.
More Ideas

Tutorial
Original Videos
Refilmed with Worsted Weight 4 Play Yarn
More Afghans