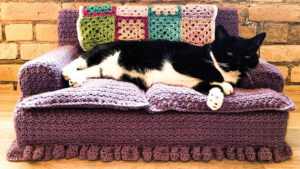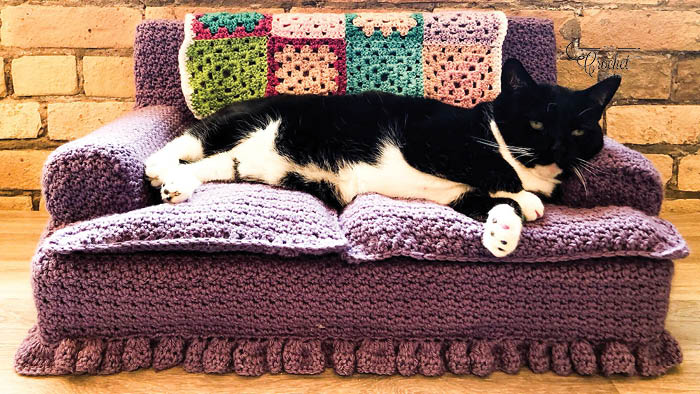 The Crochet Kitty Couch is for pampered felines that think they are boss! A cat bed unlike any other.
This pattern makes me squeal and I may even wet myself because it's one that checks all of the boxes of fun! Binky Boo and Puss Puss would fight for this. I would have to make 2. Just when I don't think it's too much, tosses on a mini cat crochet granny blanket over the top!
Instructions for the foam that builds this up are included. The couch is about 24″ long by 16″ deep. There's only 1 size couch provided in this pattern. There I go again, SQUEEEE! I love this pattern! Such a lot of fun! This makes me want to play with all of the crayons in my box! Creativity overload!
More Ideas

Tutorial
The tutorial is designed to walk you through the steps but doesn't show doing each section individually. All of the components with exception to the dust ruffle are the same stitch combination. The increase and decreases used to form the shapes are discussed in the tutorial.
Just do 4 rounds for Granny Square for the Cat Sofa Version. Use 4 mm/G Hook.
Invisible Join. I would use this technique for sewing the pieces of the sofa panels together as well.
More Pet Patterns