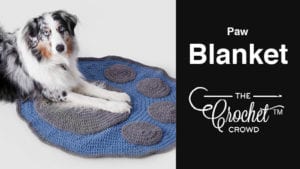 Crochet Paw Blanket
Crochet your loveable companion their own Crochet Paw Blanket. Essentially, you have 6 circles. 1 big circle, 1 medium circle and 4 minicircles. Together, when sewn, make up the paw blanket.
If you prefer a square blanket, you could always do a square solid granny square blanket and crochet just the paw prints to sew on.


More Pattern Ideas
Kitties are attracted to sitting in circles. So this could be your kitty's sacred place. It could be your dog's go-to spot!
Using Bernat Blanket Pet, the yarn is treated with a probiotic colourless and odourless formula to naturally reduce pet smells.
Tutorial
More Pet Ideas