6 Cozy Crochet Dog Sweater Patterns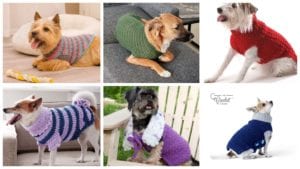 If you are looking for a great way to keep the little fur babies warm when it's chilly out, these cozy little dog sweaters are a great pattern to work up to keep them from being chilly, especially if you have a pup who has shorter hair. Most of these patterns are quite easy to make with two little paw holes great for an added extra layer of warmth.
It was a friend's place and we were outside. Although it was lovely in the sun it was chilly in the shade, her little pug came out to say her hello's to me in her usual chatty way, but she was also shivering because it was chilly for her. I started looking through pet patterns recently and realized this would make a great gift for tinker (the pug).
Pattern Suggestions
---
Crochet Cowl Neck Dog Sweater Pattern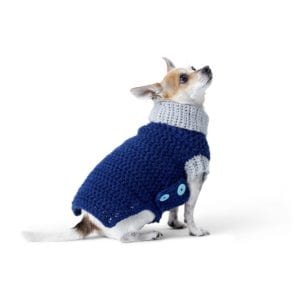 This dog sweater is pretty adorable,  it's a fairly easy straight forward pattern this one is great because it has a strap under the belly for an added layer there as well. This Cowl Neck Crochet Dog Coat Pattern is made with the Red Hear Heat Wave making it exceptionally great for dogs with really short hair.
If you haven't tried or even heard of the Heat Wave yarn, it's one you really should! Yarnspirations is the only place so far that I have seen that Canadians would be able to order it from. I used it to finally make myself a hat, and let me tell you I may have been skeptical at its abilities for a brief second that went out the window the first week I wore it to my daughter's bus stop, it did heat up and kept my head warm. Your pup will appreciate a sweater made of this for them especially if they are outside quite often for walks.


Crochet Purplelicious Dog Coat Pattern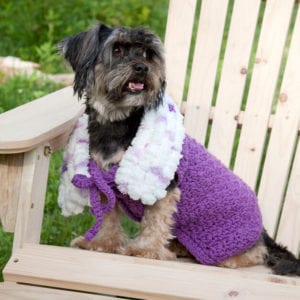 Every puppy needs this Purpleicious Dog Coat made for them. There is so much cuteness in the photo alone. My day would be made if I saw every dog walking by my house wearing this Dog Coat! If I had a dog myself I would have had this pattern made long ago, it is defiantly on my to-do list for my friend's dog. I'm almost as excited to see this one on the dog as I am to make it up.
The Crochet Purpleicious Dog Coat Pattern designed by Darla Sims made using Red Heart Super Saver as well as Red Heart Pom-a-Doodle for the collar. You, of course, don't have to make it in purple when making this, you can make whichever colour you like. Your pup will look adorable no matter what colour you go with, I would LOVE to see photos of your dog's wearing this pattern once you have it made.


Crochet Posh Pooch Dog Coat Pattern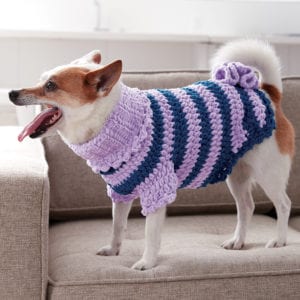 This adorable pattern is written like the others in multiple dog's sizes from small to extra-large,  which is great because big dogs get cold too!
You can make this Crochet Posh Pooch Crochet Dog Coat Pattern in any of the heart Bernat Blanket Pet colours stripe it or keep it solid, the choice is up to you. The rosette on the bum is also optional if you don't want to put it on there you certainly don't have to.
Any of these dog sweater patterns would make a great craft show item, everyone loves keeping their babies warm when it's cold out!


Crochet Dog Coat Pattern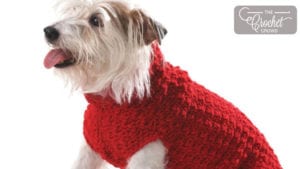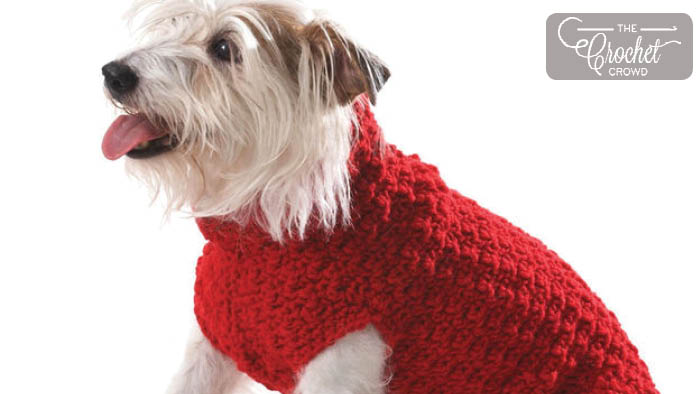 Crochet this easy Crochet Dog Coat pattern using Bernat Super Value yarn. The stitch combo is the crinkle stitch.
There is a small difference in the number of chains to start the pattern as shown in the tutorial and the repeating of specific rows may be different. You can find those on this pattern. The similarities between the two coats are so close otherwise.


Crochet Dapper Pup Dog Sweater Pattern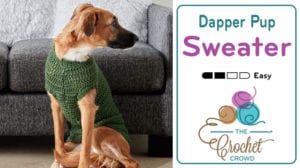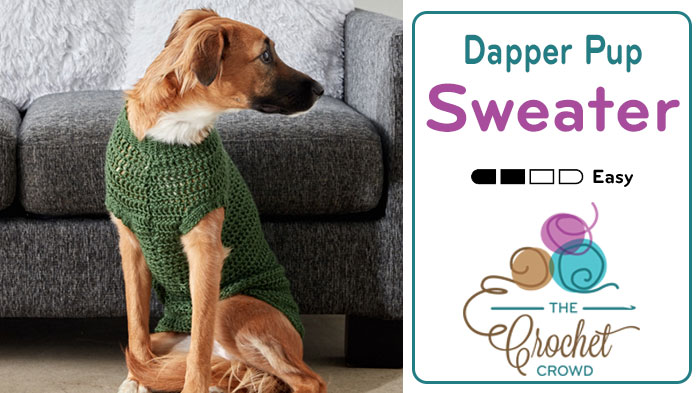 Introducing the Crochet Dapper Pup Sweater. This sweater is designed for S - XL dogs using Caron Simply Soft Yarn.
If you are unsure of your dog's size, measure the chest area. Those measurements are in the pattern to best determine which size pattern you should work on.
The pattern is pretty straight forward with double crochets and leg openings. Winter's don't have to be cold for your loveable furry friends.


Crochet La-di-da Dog Sweater Pattern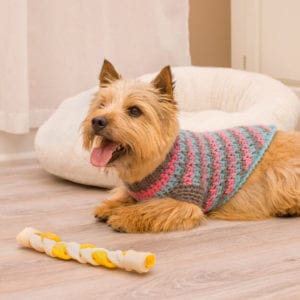 This dog sweater is so pretty, If I had a pup I would make this for the dog, and make a shawl to match for myself, its such a pretty stitch and the colour changes compliment it. This Crochet La-di-da Dog Sweater Pattern is a great one to work up for your little fur baby, to keep them warm when you are outside or chilly mornings in the house before the heat kicks in. not to mention the total adorable factor.
This Crochet La-di-da Dog Sweater Pattern was made using Red Heart With Love and is written for 3 different dog sizes. There are such lovely colourways in the Red Heart With Love yarn this dog sweater will look sweet in whichever one you go with. I would love to see photos this sweater worked up on your fur baby when you get it done.


More Crochet Pattern Ideas
More Crochet Pet Pattern Ideas