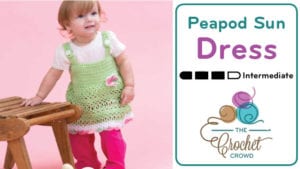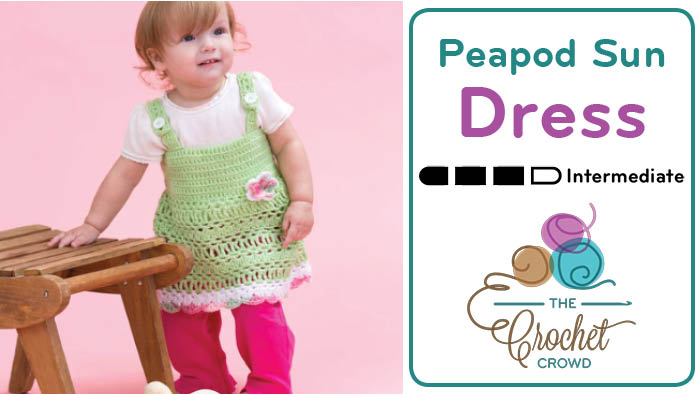 Crochet Peapod Sundress
Available in 4 Sizes
This super adorable baby dress comes in 4 sizes. Pattern includes 6, 12, 18 and 24 months' instructions. I have found the instructions super easy to follow without any difficulties. The pattern is for beginners and beyond. Don't let the pattern instructions intimidate you. There are many paragraphs on this instruction that only apply to certain sizes. When you narrow down your instructions to the size you want, you will quickly realize that many instruction lines aren't even used.
I used Baby Soft Steps by Red Heart for my version. I changed the colours and added lines of colour where the pattern is meant to be a solid colour dress with the hem area being a different colour. I would strongly encourage you to play with colours to make them unique to you.
Be cautious of the straps. If you have a little youngster jumping about. You may want to review where the straps should go or do the straps separately and attach them afterwards.
Don't be afraid to adjust the length of this dress. If you want to make it longer, just do it.
In the video tutorial, I demonstrate the 6-month version but give help on all other sizes to be able to follow the instructions. Once you see how we are growing the baby sweater, venturing on your own for the 12, 18 and 24-month sizes are a breeze.
You can use Red Heart Soft Baby Steps, Red Heart Gumdrop or even James C Brett's Baby Marble. Either way, you will have an amazing dress.
Get the Free Pattern, Peapod Baby Sundress. The heart and the flower are separate tutorials within my YouTube Channel.


Pattern Suggestions
Tutorial
More Baby Dress Pattern Ideas