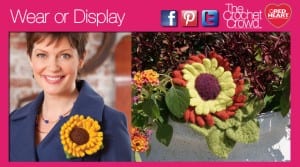 Versatile Sunflower Pattern
Wear it or display your crochet sunflower. I have found this pattern to be great for multi-purposes. I could totally see this pattern being used for phenomenal fall wreaths. Change the colours and you can use this flower concept for another season.
The secret to felting is to use 100% Wool to allow the yarn to do the felting process. You cannot felt with standard yarns.
The shrinkage factor is significant, the flower lost 3″ In diameter in going through the felting process. This pattern compensates for the shrinkage and you will end up with incredible results.
For the free pattern, it's called the Felted Sunflower Pin.


Pattern Suggestions
Free Video Tutorial to Follow
Crochet Flower Pattern Ideas