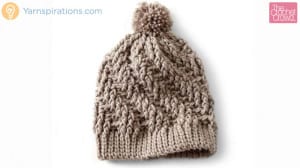 Crochet this incredible and easy to follow Stepping Texture Hat pattern. It doesn't take much for you to see the stepping texture causes a spiral feature to appear on the hat. It reminds me of cabling to some degree.

The hat is in three sections. You have the brim, main body and then pom-pom. My video tutorial will cover all three aspects of the hats.
Firstly, you will crochet your brim. You can follow the dimensions in the pattern but you can alter it as I give you a tip on what you need to do to ensure the stepping texture pattern will appear perfect. I cover that in the video tutorial.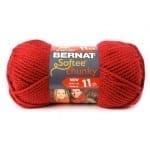 This hat uses Bernat Softee Chunky Yarn. You will only need a couple of balls for the adult size version. You will also need an 8 mm or Size L Crochet Hook to complete this project.
Have fun with this pattern. If you complete it, we would love to see your WIPs and finished projects posted on our Facebook Page.
Pattern Suggestions
More Crochet Hat Pattern Ideas