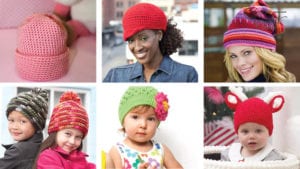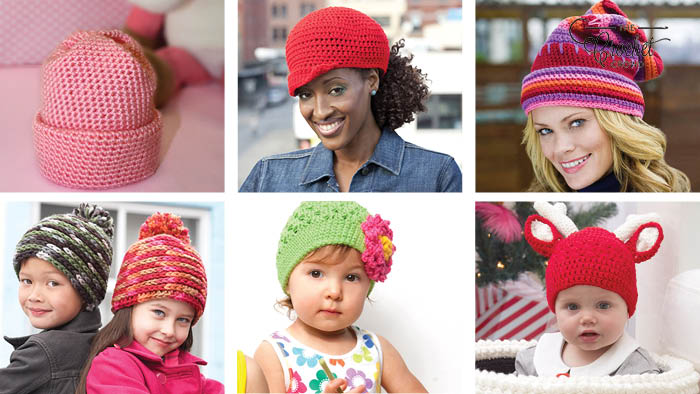 6 Winter Worthy Hats
Making a crochet hat has a sense of pride in our lives. The ability to customize for our exactly head shape and colours we crave the most. Are you like me and you are looking to buy a hat but you compromise on the colour? Yeah, I get it.
We pulled together a list of 6 hats for all ages. I'm intrigued by the Red Heart Valentine Hat due to the stitchwork and colouring.
Spiral hats are pretty straight forward and you can colour them for children too. Top it off with a pom-pom or leave it off. You're the artist.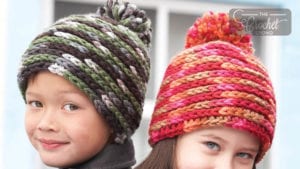 Bernat Spiral Hat
I love making hats, of all the things I make, hats are definitely one of my favourites, they're quick and easy to make and take very little effort to whip up. This Crochet Spiral Hat is fun and will look great in any colour of the Softee Chunky colourway. Hats are also a great project if you do craft shows as I do, they are one of my best sellers at my winter shows.
The crochet Spiral Hat has a unique look which makes it all the more fun, make up a few to have in your "gift" stash. Those really come in handy to have when you need a gift in a hurry for someone. They look like you put in a lot of thought because the spiral hats are so lovely a fun little twist to the normal beanie.


---
Crochet Preemie Hat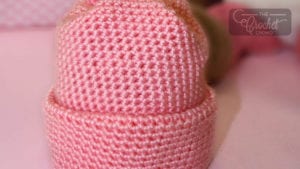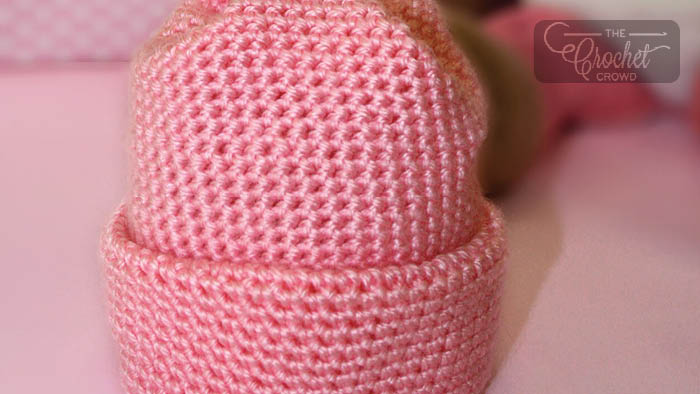 Most of us have known someone in our life that at one time or another that has gone into labour a little too early or simply had a tiny baby and a Preemie Hat is a necessity. You know one of the hardest things to find are preemie items like hats or sleepers. I used to work in a department store years ago where I ran the infant department, so many times I would have someone come in looking for a Crochet Preemie Hat or clothing and there was always little to no options, it wasn't that there wasn't anything in stock, it was simply just not something that was greatly carried the option just wasn't there.
Now though there is online access to so many pattern options thanks to Yarnspirations giving those of us who have the gift of crochet can now create clothing and warmth for those tiny little bundles of love. This Preemie Hat is made using Bernat Softee Baby there are so many lovely colours to choose from and the yarn is so soft making it such a perfect hat for keeping tiny little babies warm. The Preemie Hat would also make a great craft show item people are always looking for baby hats, especially this time of year where it is getting so cold.


---
Red Heart Ponytail Hat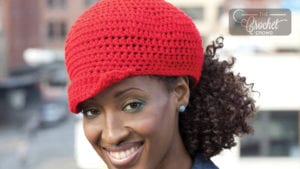 Ok, my friends, those of us with an abundance of hair can appreciate a hat that has the hair placement in thought, whether it be the messy bun hat or like this Crochet Ponytail Hat where out hair comes out the back of the hat. The Ponytail Hat designed by the Double Stitch Twins is a wonderful thought that they put into this hat and I am very excited about it.
Make one in every colour,  everyone with lots of hair will appreciate this Ponytail Hat as a gift, it's stylish and practical! Add some buttons or a flower dress the hat up in all kinds of fun ways!


---
Red Heart Floral Hat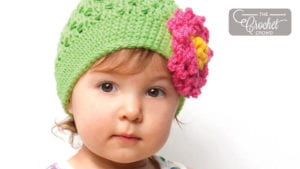 Made with Red Heart Super Saver this Crochet Floral Hat is such a cute hat designed by Linda Cyr work this Floral Hat up for that child in your life that loves flowers as I do.  Play with flower colours has fun making up all kinds of different colour combinations.
The Floral Hat is an easy project that won't take long to build up stock, for craft shows, or to have on hand for gifts.  I plan on making a couple for my girls playing with the colours of myself.


---
Red Heart Valentine Hat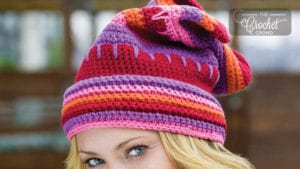 Theresa McCune designed this fun and colourful Crochet Valentine Hat with lots of flair and creativity. Add this fun pop of colour to your winter wardrobe it's just what you need on those dreary overcast days. I love fun pops of colour, especially if its a day I end up wearing all black.
Play with your choice of the many Red Heart Super Saver colours there are so many fun colour combinations you can come up with, either alternate each section with 2 different colours or play with lots of colours, let your creativity flow!


---
Red Heart Reindeer Crochet Hats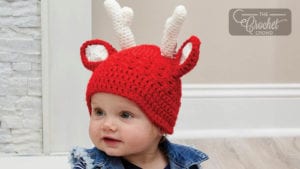 Let us just take a second to take in all the cuteness of this hat! The Crochet Reindeer Hat is a very adorable hat designed by Laura Bain is fun for the whole family to wear. Also a great hat for a group of friends who like to get together.
The Reindeer Hat is defiantly a hat that needs to be added to all of our lists be it for our selves or as a gift. I can see this hat also being quite a popular one for craft shows or if you do secret Santa gift exchanges.


---
More Hat Ideas