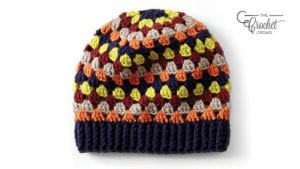 Granny Stripes Hat
This is a nice crochet granny stripes hat. This free pattern is for adult women. I decided to try this pattern from a different perspective using one of the latest yarns by Yarnspirations. This yarn is Bernat Super Value but there is a new version as of 2015. It's called Bernat Super Value Stripes.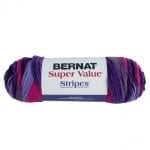 The very convenient thing about this yarn is that the colours stay the same colour for a long stretch before instantly transitioning to the next colour. There are 8 different colourways to choose from in this new yarn brand. See the examples below. The blue version is Bernat Super Value Stripes Meadow and the brightly coloured version is Bernat Super Value Stripes Spice.


If you decide to use this yarn instead of the recommended Bernat Super Value regular style. You will use about 60% of a ball to make one of these adult hats.
The brim is just using Bernat Super Value. I used the colour Grass for the brightly coloured version and Navy for the blue version.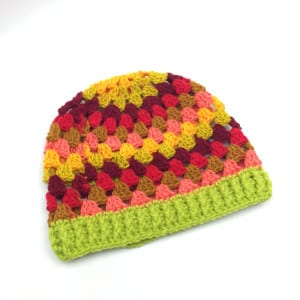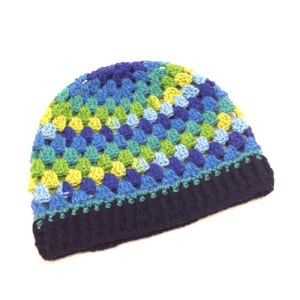 Suggested Change – Sizing
In the picture above, you will notice the blue version is slightly bigger. It's not a zoomed picture, it is bigger. The blue version is the original pattern. I'm a loose crocheter, so it was too big for my head.
In the video tutorial, I also talk about this as being one of my issues. So I show how you can change the pattern to make it smaller. So if you are loose like me, if you don't follow the instruction in Round 6 and just skip over it, you will end up with a smaller hat. Round 6 is a growth round of making it the final size. However, it takes several more revolutions after this round before the hat starts to show it's true size.
Word of Caution – I noticed when making the brightly coloured version that I thought I might have been wrong to eliminate Round 6. However, once I got to the brim area, I noticed it was fitting perfectly. I was having self doubt during the making of it whenever it was going to be too small. I wasn't giving the yarn a chance to relax and get to it's full size.
If you are unsure if you are a loose crocheter and do Round 6. Mark that round with a stitch marker. You will realize about half way to the brim that it will be too big for you. You can pull out your stitches back to Round 6 and eliminate round 6 completely and then continue as normal.
Video Tutorial Below
Crochet Hat Pattern Ideas