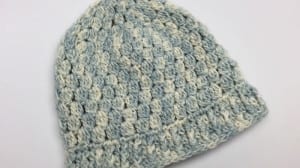 This crochet hat has been designed to make the hat secondary on a kid's body. Most of us adults know how peer pressure and bullying happened in the winter in wearing hats.
This design is called the Granny Striped Hat Pattern designed for two age categories. Ages 2 - 4 years old and 6 - 8 years old.
The tender age of 6 - 8 when kids are in school can be tough. As a child, the pressure not to wear a hat in the middle of our frigid winters are ridiculous. While you can make this design to be very vibrant, I changed the yarn out and substituted with Patons Denim-y which is a yarn line that is about acid wash jeans look of yarn. This hat is subtle to not call strong attention to the hat to help reduce the need for other kids to point out the hat.
Pattern was updated to new yarn but is the same colouring. The new pattern is using Caron Simply Soft yarn.
.
.
Patons Denim-y is a blend of three materials which include Cotton, Wool and Acrylic. This hat will keep kids warmer than regular acrylic yarn hats.
Keep the same size hook as suggested in the pattern and just change out the yarn to Patons Demin-y and you are good to go!
The hat seen in the photo above is for 6 - 8 year olds but you can make the smaller version as seen in the pattern if you wish. For the large size, I used only 1 ball of Patons Denim-y. I will caution you though, I was about 12" from finishing the ball to make this hat. If you are picking up this yarn for this project, you best grab a couple balls so you don't have to be stressed if you run out before you finish.