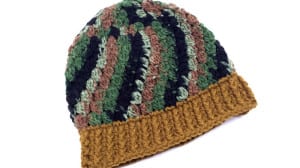 Crochet Kids Hat
Introducing a crochet kids' hat with Camouflage yarn colours. Designed for two age categories which include 2- 4 years old and 6 - 8 years old. This easy to make hat are quick and easy to make.
I was inspired by making the hat to have a rugged look. The yarn changes the colours on its own. It's part of the Bernat Super Value Line called Renegade Ombre. You will find other yarn colours in the same line that also represent the outdoors.
The pattern was updated to using the exact same pattern called Caron Rainbow Granny Striped Hat. It is now using Caron Simply Soft yarn.
.
.
Once you get to the spot where the hat stops growing, the stitches and colours will begin to align with each other naturally as you see in this picture.
Continue to use the same hook size as recommended in the pattern. You will only use about 60% of the yarn ball to make this. For the brim, I used Bernat Super Value Gingerbread.
Hat Pattern Suggestions