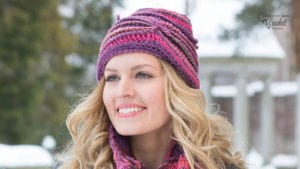 Corrugated Hat Pattern
This Corrugated Hat is very high on my bucket list for trying out. I have seen this hat in person at a live show where Red Heart featured this hat. It's really neat and unexpected. Its unexpected design is one to certainly grab the attention of people around you.
Frankly speaking, I think this hat is really terrific and stylish. Also included with this pattern is a matching cowl design. Overall, I love this set and is one of my favourites for this season.


Stop gawking and get hook'n! Get the free pattern, it's called Corrugated Hat and Cowl.
Join us for the month of interesting hats that are free.
More Crochet Patterns to Consider
Tutorial
Crochet Hat Pattern Ideas