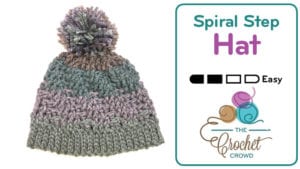 Crochet Spiral Step Hat
The Crochet Spiral Step Hat is the sister through adaptation of the Stepping Texture Hat. Using Caron Tea Cakes with 8 mm or L Hook, I altered the pattern to shrink the top of the hat down removing out some rounds and slightly changing the top finishing to match the spiral.
Caron Tea Cakes are slightly thicker than the original Softee Chunky, so I had to take into account growth and height.


This the hat that I wore during the Secret Reveal Party on the stage. I made it the night before at the hotel and changed the height of the pattern.
Pattern Suggestions
Sister Hat: Stepping Texture Hat
The pattern for the Stepping Texture Hat: Click Here to View It.
More Hat Ideas