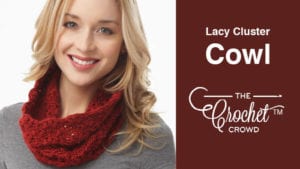 Crochet Lacey Cluster Cowl
Crochet this Lacy Cluster Cowl that will accent your wardrobe. The cowl consists of fan-like crochet clusters in a compact setting. Simply put, it's not a huge cowl to make and is a pretty easy going for an intermediate level crocheter.
More Ideas
If you are looking for a step up in stitch definition and to keep in trend for the fall, winter and spring for your wardrobe, this may be just the contender.
Other Cowls to Enjoy