Caron Anniversary Cakes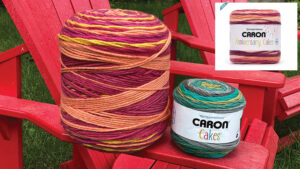 Update: Michaels Stores is being stocked with Caron Anniversary Cakes for fall 2021. You will find some refreshed colours.
Dorothy, we ain't in Kansas anymore! In celebration of now 6 years, 6 YEARS ALREADY, is the newest edition of the Caron Anniversary Cakes. It's HUGE! 
This is considered a #6 Super Bulky Weight. It's 1000 grams or 35.3 ounces of fibre fantasy dreams come true!
I asked the question about the length of the self-striping. It's close to the same length as the original for each colour. Because the ball is huge, it gives the illusion it changes colours faster. It's not, it's just the circumference of the ball!
These gigantic size balls are available exclusively at Michaels Canada and USA. These are rolling out to the shelves in select Michaels locations. You can check out their website, Michaels, for availability. You may have been seeing empty store shelves and they are waiting for the birth of these huge cakes coming your way! These are Motto Motto Size. We like it big, we like it chunky! 
It's officially launching in a week or so but stores are receiving their stock soon and you will see them magically appearing on the shelves. It's now listed as an item on Michaels.ca and Michaels.com. So I figured I would tell you more about it. These are way too big for a stocking stuffer!
---
Crochet Anniversary Cakes Cardigan Pattern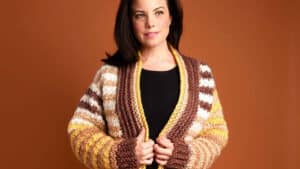 Super cozy is the Anniversary Cakes Cardigan. With many colours to choose from and the way you can mix the colours together would leave it to your imagination to how your personal cardigan would look.
For the Extra Small to 4 XL size you will need 2 balls. For the 5 XL, you will need 3 balls.
There's nothing stopping you from grabbing different colours of the Caron Anniversary Cakes to really give it flare.

---
Crochet Poncho with Anniversary Cakes Pattern
The Crochet Anniversary Cakes Poncho is ultra-soft and has a similar concept of ponchos that are made by Yarnspirations.
This is the Caron Anniversary Cakes Poncho. From Extra Small to 5 XL, all pattern sizes are using 2 giant big balls of Caron Anniversary Cakes.
This poncho is even better with the turtle neck for the fall warmth feeling as the temperatures start to dip.

---
Crochet Cozy Shawl Pattern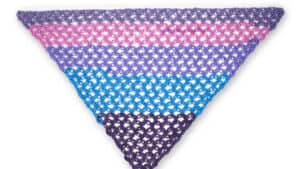 The Crochet Cozy Anniversary Cakes Shawl pattern is using the Solomon's Knot feature.
I've done the Solomon's knot already but not in a triangle shawl format.

Solomon's Knot in Wrap Rectangle Format
This is using Bernat Blanket with the Crochet Love Knot Blanket. Love knots are the alternative name of Solomon's Knot. Though I don't have a triangle version of Solomon's knot in a triangle format, I figured adding this may be of interest.

---
Crochet Going Dotty Infinity Cowl Pattern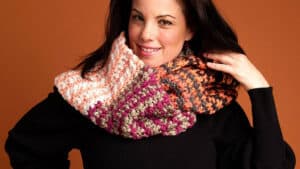 This is a generous 60" Crochet Infinity Cowl pattern. You can have the creative outlook of two different anniversary cakes that will mix together.
You may find yourself staring at the yarn and wondering how the colours will mix together.
This is a chunky weight and you may seriously enjoy the stitching journey this offers.

---
Caron Blue Waves Crochet Blanket Pattern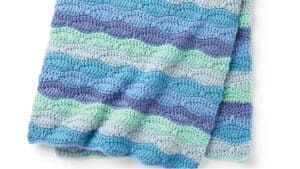 The Crochet Blue Waves Anniversary Blanket has colour play. I filmed this back in July 2021 knowing the Caron Anniversary Cakes were returning back for fall.
Using the colours in the Anniversary Cakes, you will follow the pattern as directed forcing the colour play to happen.

Tutorial
---
Crochet Sampler Blues Afghan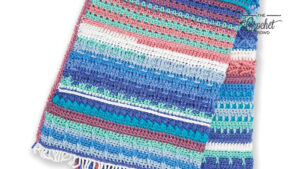 Experience a tremendous stitch sampler afghan called the Crochet Sampler Blues Afghan. Talk about a stitch tease project. There are 8 different stitch combinations used in this masterpiece.
Diagrams are available for each of the sections. I would caution you on section 6 as that stitch tends to be tight in tension. I would increase the hook to a 10 mm / N Hook for that particular section. That's experience giving you that advice.
The link will take you to our landing page as our videos for this Stitch Along is gathered together in one spot. 


---
More Ideas
More Blanket Patterns