Caron Anniversary Cakes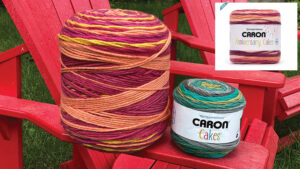 Dorothy, we ain't in Kansas anymore! In celebration of 5 years, 5 YEARS ALREADY, is the newest edition of the Caron Anniversary Cakes. It's HUGE! 
This is considered a #6 Super Bulky Weight. It's 1000 grams or 35.3 ounces of fibre fantasy dreams come true!
I asked the question about the length of the self-striping. It's close to the same length as the original for each colour. Because the ball is huge, it gives the illusion it changes colours faster. It's not, it's just the circumference of the ball!
These gigantic size balls are available exclusively at Michaels Canada and USA. These are rolling out to the shelves in select Michaels locations. You can check out their website, Michaels, for availability. You may have been seeing empty store shelves and they are waiting for the birth of these huge cakes coming your way! These are Motto Motto Size. We like it big, we like it chunky! 
It's officially launching in a week or so but stores are receiving their stock soon and you will see them magically appearing on the shelves. It's now listed as an item on Michaels.ca and Michaels.com. So I figured I would tell you more about it. These are way too big for a stocking stuffer!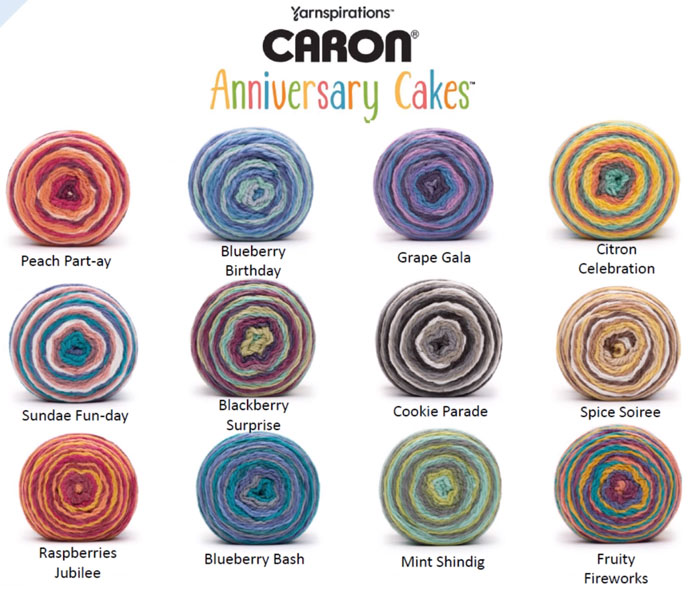 There are 10 shades such as the following names:
Peach Part-ay
Blueberry Birthday
Grape Gala
Citron Celebration
Sundae Fun-day
Blackberry Surprise
Cookie Parade
Spice Soiree
Blueberry Bash
Mint Shindig
Stock Update
The picture shows Raspberries Jubilee and Fruity Fireworks. The picture above has the complete collection but was decided by Michaels not to carry these two colours. So they were never made. There are only 10 colours in the line up.
Crochet Sampler Blues Afghan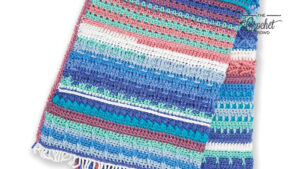 Experience a tremendous stitch sampler afghan called the Crochet Sampler Blues Afghan. Talk about a stitch tease project. There are 8 different stitch combinations used in this masterpiece.
Diagrams are available for each of the section. I would caution you on section 6 as that stitch tends to be tight in tension. I would increase the hook to a 10 mm / N Hook for that particular section. That's experience giving you that advice.


More Ideas
More Blanket Patterns