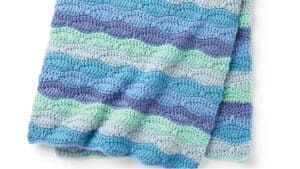 The Crochet Blue Waves Anniversary Cakes Blanket is colour played. The Caron Anniversary Cakes have 5 colours and the colours are pulled out.
It's called colour play when crocheters and knitters deconstruct a yarn ball so the colours are separated and manipulated in their own way. It's not uncommon for yarn users to want to change the order of the colours.
This is strategically designed so that each stripe is a solid colour from the Caron Anniversary Cakes. So the light blue is used for the stripe and anything left over is wound to a separate ball and holding for the next time you need that colour. You then jump to the next colour you want and do a stripe. As the colours come back into play, you will use what is leftover from the yarn ball and then dig into the ball for the same colour to continue.
Of course, you can substitute your yarn and hook for this pattern. You could also let the colours just come out in the ball and left the afghan just do its thing without colour play. It won't be as neatly striped but you may be okay with that as well. It's your creativity and you are the artist.
More Ideas

Tutorial
More Afghans