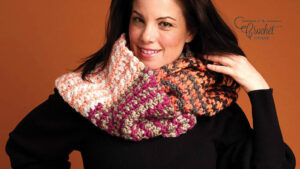 Crochet Dotty Infinity Cowl
The Crochet Dotty Infinity Cowl is a fun little project using the new Caron Anniversary Cakes yarn. This is using two separate balls and the colour of each is shown to give the stripes.
The stitch shown is called the Houndstooth. It's generally a very nice stitch and I think it suits this cowl really well. If buying two balls is an obstacle, you could use one end from one ball and the other end of the same ball. So a yarn strand from the outside and one from the inside.
The two strands are carried up the side of the cowl when crocheting this, so there are not a million ends to deal with.
Fun fact, due to Covid-19, when everyone was grounded at home. The model in this plus other photos during the same time frame is the graphics manager at Yarnspirations in front of a white wall at home. She's normally behind the scenes. She's a great sport and it was just a photographer in keeping their distance from each other.
More Ideas


Tutorial
Not at this time.
More Cowl Patterns