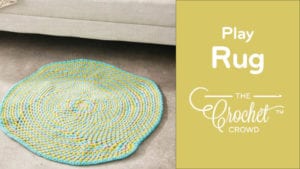 Crochet Kid's Play Rug
Using the new seriously think Bernat Maker Big Yarn, you can crochet a kid's play rug great for those little ones who love to play one the floor, which is pretty much all kids. You could use the same concept for your own rugs at home for other uses too like at the kitchen or bathroom sink.
This is a free pattern and it is so easy to follow. It looks great in any colour also a great gift for someone you know who likes mats as much as I do.


Pattern Ideas
Mat Pattern Ideas