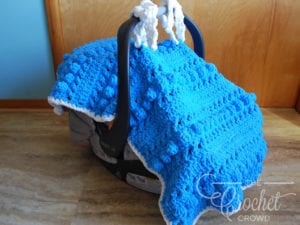 Crochet Hugs & Kisses Car Seat Cover
Here we go with #6 in the Hugs & Kisses collection.  I created a quick car seat cover that will canopy over and adjust easily over your baby's seat.
I know some of you are going to say these are dangerous, so please use common sense as covers can be quite safe when used properly.  Never leave this over your baby for an extended time.  This should only be used as a protection from cold, wind and rain in the short periods of time when carrying the car seat in and out of the car.  When in the car, you can easily roll the cover back to see the baby.
I used Bernat Blanket Yarn in 2 shades to make this cover.  You could easily adjust the size to make a blanket as the design is worked in multiples of 6 + 2.  I think this would also make a nice floor play mat for baby as it is incredibly soft and lots of texture that a baby loves.


Pattern Suggestions
More Baby Blanket Projects