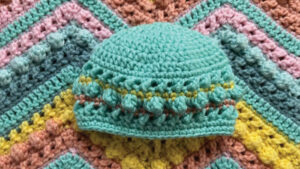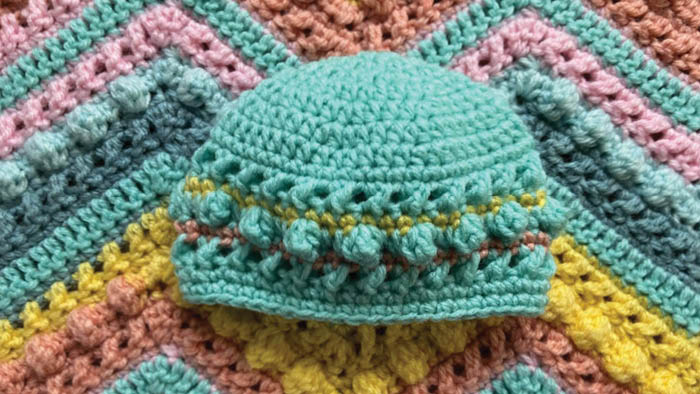 The Crochet Hugs and Kisses Baby Beanies are designed to pair with the Hugs and Kisses Stitching concepts by Jeanne Steinhilber.
The Hugs and Kisses Band really lends itself to unique colour play. The pattern is written for the Pink Version in changing the colours. You could do the band a solid colour or even do the entire hat in one colour and let the light make the texture pop off. The aqua version changes colour on the single round before and after the popcorn. 
I felt this design is not ideal for preemie size due to the texture. With my sponsorship with Yarnspirations, I cross-referenced the Teeny Weeny Baby Caps, (posted below) for sizing and design consideration. 

Have fun with colour play with the Hugs and Kisses Stitching Texture. Looks great in colours and solids.
Tutorial
Not available at this time.
---
Original Hugs and Kisses Blanket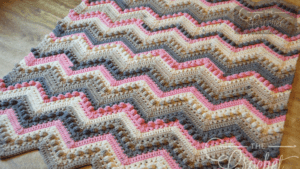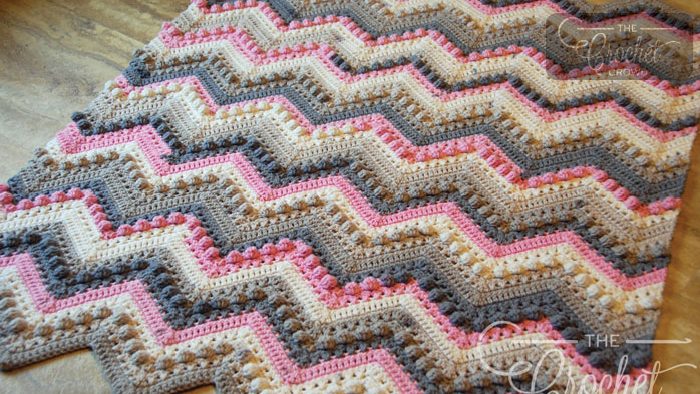 A brand new granddaughter is arriving soon, so that means a brand new baby blanket in honour of her. This crochet project features a series of cross stitches and bobbles, or X's & O's, so that is how this became the Hugs & Kisses Baby Blanket.
I used the new Caron Baby Cakes in Dreamy Rose for this, but feel free to substitute regular Caron Cakes or any worsted weight yarn of your choice.
2 Options for Downloading
We have some extra bonus notes on the original article. Link to the free pattern will take you to the article and you can download the pattern from it.

Skip the helpful notes and just download the pattern. 

---
Teeny Weeny Baby Hats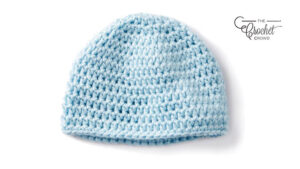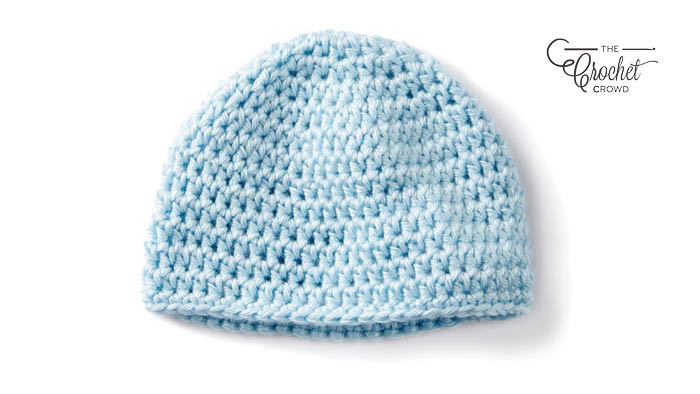 The Teeny Weeny Baby Hats were used as a model to strive for measurements for the Hugs and Kisses Baby Beanies. Sized from 3 - 4 lbs preemie, 5 - 6 lbs preemie, 7 - 9 lbs newborn and 10 - 12 lbs 3-month size.
This hat is a flat stitch of double crochet for most of it except for the final round. There are video tutorials for this hat.
All sizes are recorded on one pattern.

3 - 4 lbs Preemies
5 - 6 lbs Preemies
7 - 9 lbs Newborns
10 - 12 lbs 3-Month Size
More Hat Projects