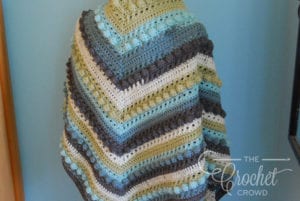 Crochet Hugs & Kisses Shawl
My friends at The Crochet Crowd Stitch Social have challenged and inspired me to crochet more and more Hugs & Kisses designs.  It's my pleasure to introduce you to my latest design, the Crochet Hugs & Kisses Shawl.  This is one of the easier of the series so far to crochet.
I started and restarted this one a few times before I decided to use the Caron Big Cakes in Afternoon Tea.  I had 2 of these cakes on hand but just wasn't sure if I enjoyed the colours.  It wasn't until I started hooking and watching these beautiful colours start to blend that I watched this blossom into a lovely project.
Of course, you can use your favourite cakes or even try it in a solid colour.  And this would make an awesome prayer shawl for a special person that needs comfort.


More Shawl Ideas