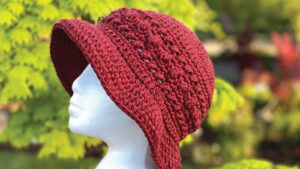 The Crochet Adult Sun Bucket Hat using the Hugs and Kisses Stitch concept. With a textured band that is part of the structure to stand out.
Starting at the top of the head, it fits the average female head. The brim is intended to be sturdy and lean downward to help keep the sun off your face.
You can do colour play with this and colour the Hugs and Kisses section to be different. The section starts on the 11th rnd and goes to the 20th round.
More Ideas

---
Mom and Me Pairing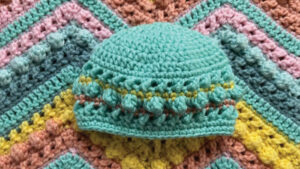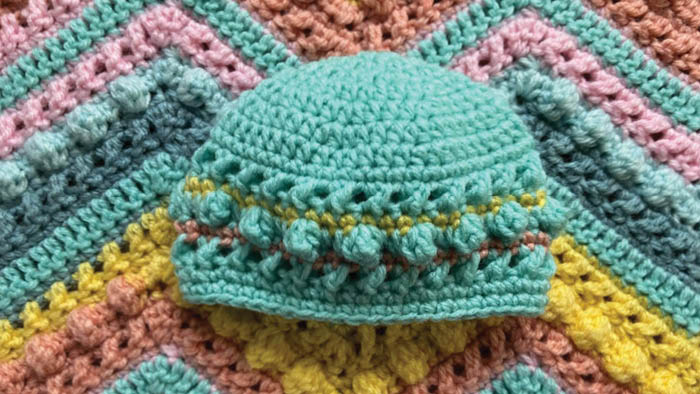 The Crochet Hugs and Kisses Baby Beanies are designed to pair with the Hugs and Kisses Stitching concepts by Jeanne Steinhilber.
The Hugs and Kisses Band really lends itself to unique colour play. The pattern is written for the Pink Version in changing the colours. You could do the band a solid colour or even do the entire hat in one colour and let the light make the texture pop off. The aqua version changes colour on the single round before and after the popcorn.
I felt this design is not ideal for preemie size due to the texture. With my sponsorship with Yarnspirations, I cross-referenced the Teeny Weeny Baby Caps, (posted below) for sizing and design consideration. 

Have fun with colour play with the Hugs and Kisses Stitching Texture. Looks great in colours and solids.
Tutorial
Not at this time.
More Collections