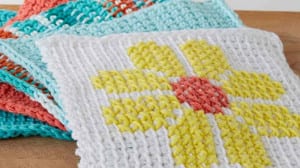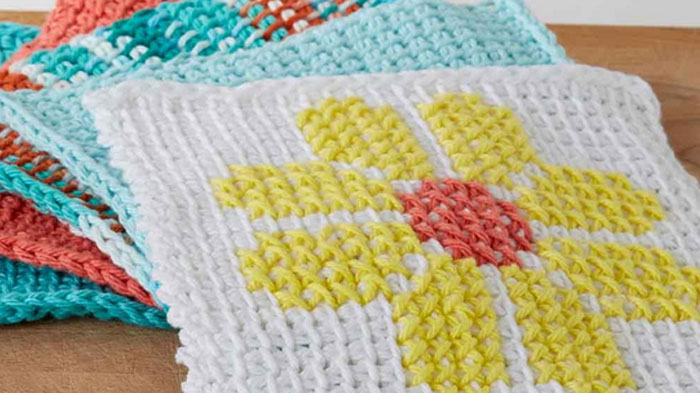 This skill-building 8-inch Tunisian Simple Stitch Dishcloth is a beginner-friendly pattern.  For those of you who appreciate videos, Mikey has this video tutorial ready for you.
Crocheted dishcloths are a staple in my kitchen.  There never seems to be enough of them in the drawer.  Tunisian crochet is my favorite and I enjoy trying out new stitch patterns on dishcloth size squares using each new stitch combination that I think of.  It is a great way to practice new stitches and it adds to the dishcloth stash.


More Ideas
Many other uses for this dishcloth pop into my head.  I picture a stack of these rolled up in a basket in the bathroom to use for hand towels or in the shower or tub.  I can see my grandchildren choosing their favorite color.  I'm thinking maybe even make a crocheted basket for the dishcloths.  I have not tried that.  I am always in for something new.
The front of the Tunisian Simple Stitch Dishcloth allows for a smooth scrubbing surface while the back of the dishcloth is textured making it rougher for scrubbing.  These dishcloths are soft and absorbent while being sturdy at the same time.
This idea of using the grid on the Tunisian Simple Stitch for cross stitching intrigues me.  I have been giving this technique a try.  There is definitely a bit more practicing to do.  My thought is to only stitch in the front part of the stitch.  This allows the back of the project to not have the cross stitching show through.  I am getting close and just need to fine tune it.
Tutorial