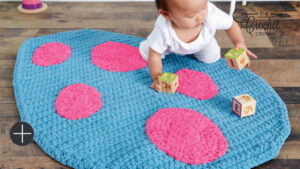 The Crochet Dino Egg Rug / Playmate is really super cute. It's colourful and has extra soft padding with Bernat Blanket yarn.
To me, I'm attracted to the colouring with the blue egg and deep pink circles that are sewn on like motifs once the main mat is completed.
More Ideas

Tutorial
Not available at this time. I am open to filming this. Just let me know in the comments below. 
More Mats