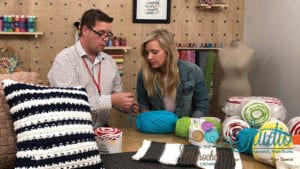 Travis the Crochet Giraffe
One of our contacts at JOANN Fabrics & Crafts is Abby. A spirited young woman that makes us laugh and enjoy crochet all the more. Abby helps us a lot behind the scenes in organizing the Crochet Cruise from JOANN's Sponsorship perspective. We greatly respect her.
The photo taken is myself giving Abby the run-through on the pros for Bernat Maker Outdoor Yarn. She is directly involved from a yarn perspective at JOANN and knows the technical details of yarn. We were discussing the manufacturing process of the yarn before the live broadcast.
We've worked with Abby for a couple of years already and we know, based at sitting at her 'cube' she would call it. She's obsessed with Giraffes. Her immediate boss is our main contact and her boss has a complete door artwork design by London Kaye. London is known for incredible crochet street art and Abby's boss has an original London Kaye project. So… it occurred to us to crochet Abby something personal and meaningful for her. Original artwork by me. I rarely ever gift out any of my artwork. As most of you know, along with Daniel, Kevin, Karen and I, we have two 12 Foot Nutcrackers at the National Art Centre in Ottawa, Ontario.
Originally, I was going to crochet Abby an afghan type privacy curtain for her cube but Daniel reminded me that I have the ability to go a step further to create a sculpture. It didn't take much convincing.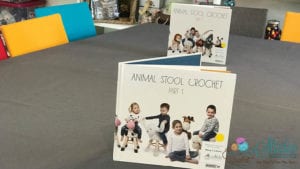 We surfed Pinterest, we stumbled across the Giraffe Animal Stool. A design by HAAKPRET. I have the ability to self create so I started my stool pretty much within an hour after running to Walmart to buy a stool. Out of respect for HAAKPRET, I purchased the two books through Wool House in the UK as I want to do more of these stools and they have figured out the math.
With my ability to improvise and do things without a pattern. I started with the stool to cover it and constructed a neck and head.
Pattern Suggestions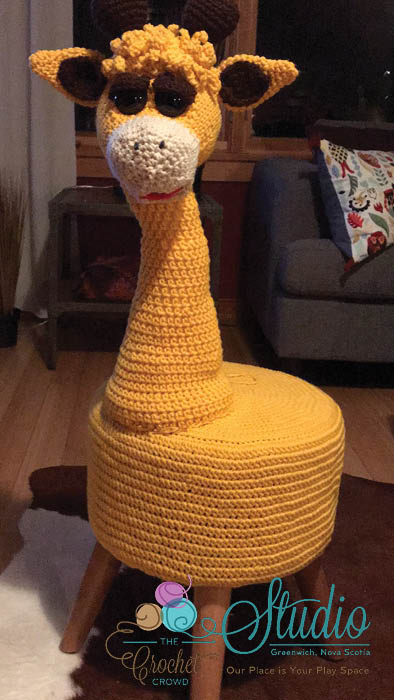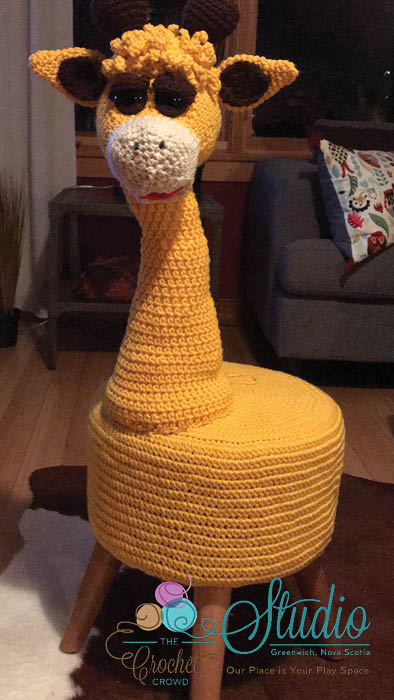 The head is supported by a 1″ dowel that is rigged to never move and is part of the main cushion area instead. So the polyfill inside the neck has no weight-bearing to hold up the head. The cushion covering is done as a continuous round so there is no slip stitching.
I would crochet a little bit, test try and continue.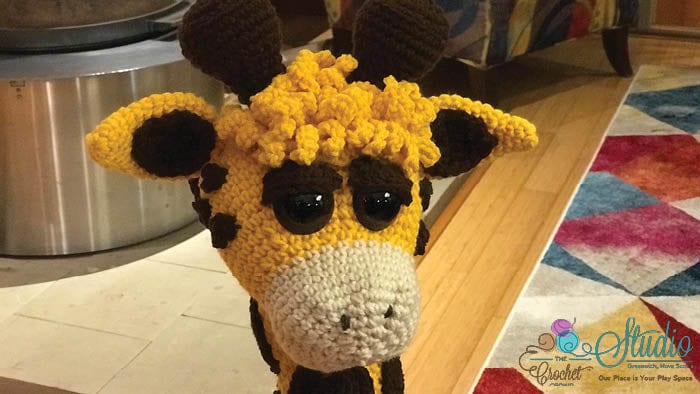 Along with Daniel's feedback. I really pushed myself on the head and face. Adding gigantic safety eyes, spots, hair, colouring inside the ear with yarn, of course, and eyelids. Everything on the entire giraffe is hand sewn.
You cannot see that Travis has a full mouth complete with colouring for the interior of the mouth. It's a subtle touch for partial realism.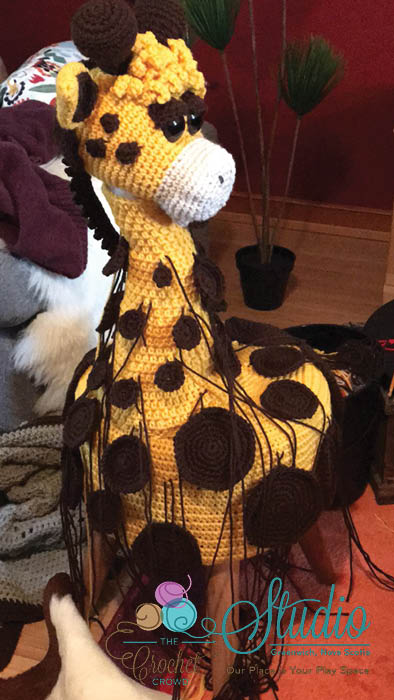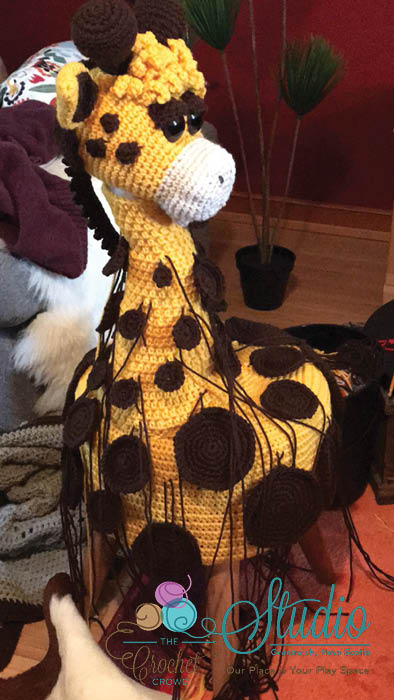 All of the spots are random. Using larger spots for the lower part of the giraffe. I would crochet a spot and hang it into position so I got an idea on the positioning. I thought making the spots was never going to end. The sewing was several hours sitting on the floor with the giraffe.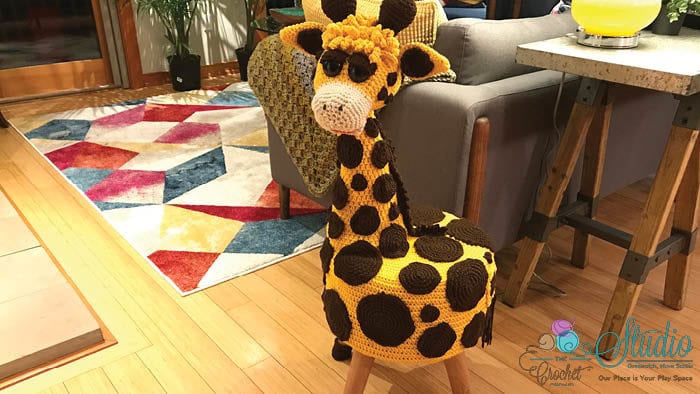 I finished on the 4th evening. I started literally Friday night and was done by Monday Night. Attention to detail such as a signature stitch I love for a mane. One of the spots, you cannot see in the photos is a heart brown spot on the left side of the tail at the back.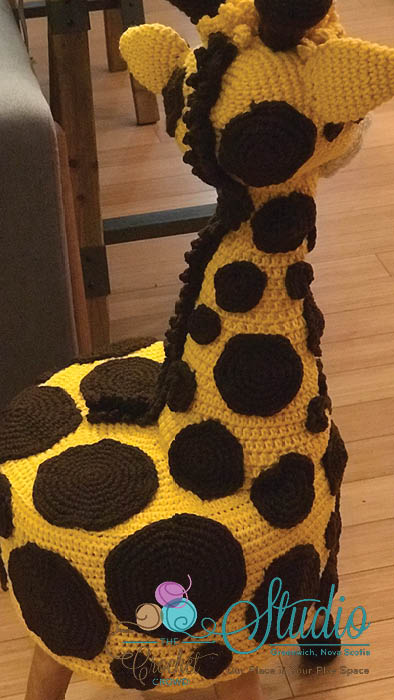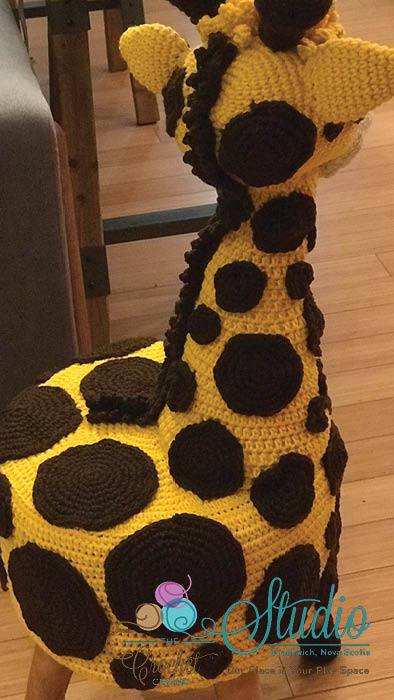 I positioned Travis' Head to be in a position to be looking at Abby as she works, assuming she keeps it at the office. He stands almost 3 feet tall and is 24″ x 24″ at the body. He's a fair size project.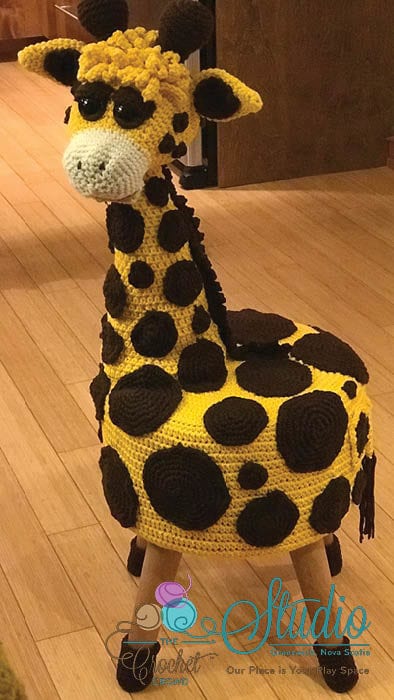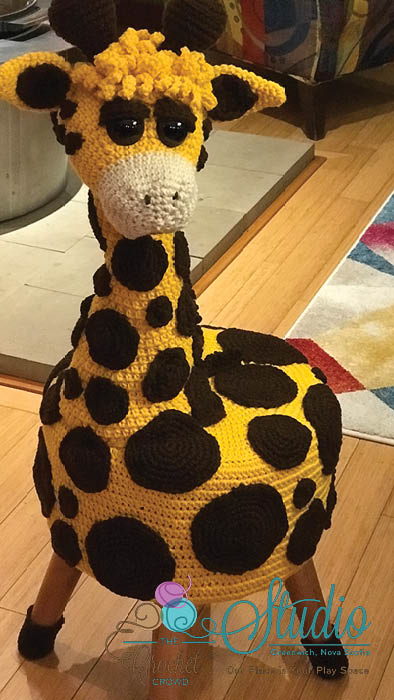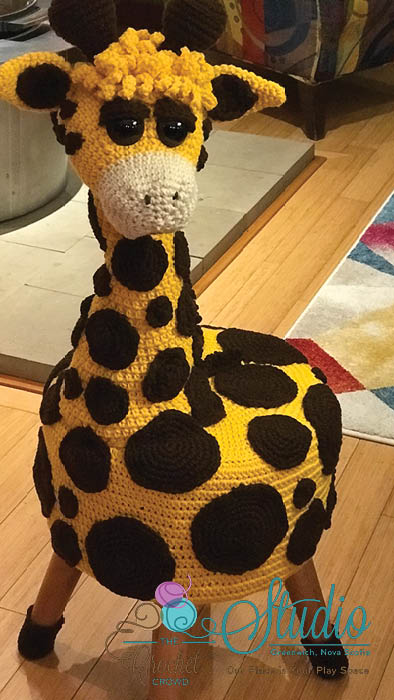 Materials Used
I used, believe it for not, 2 balls of Caron One Pound Yarn.
Stool, about $50 CDN purchased from Walmart.
Polyfil
Styrofoam and Wood Dowel for Neck Support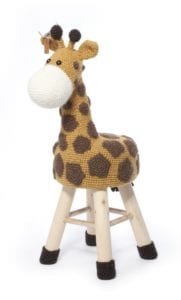 Pattern
Out of the need for speed and that this is an original artwork piece of mine, you will see that I coloured way outside of the lines from the original concept.
Other than conceptual of having hoofs like Haakpret's version, I did many changes without a pattern. I just eyeballed most of it. When there were two of any one thing, like hoofs, ears and horns, I wrote down the pattern so I could get the same size, but other than that, the rest of it is decided in real-time.
So if you looking to create this type of pattern. HAAKPRET's version found at the Wool House in the UK Online is your best option. I couldn't find this locally or through Amazon. So I bought through the Wool House and they were pretty quick in shipping from the UK too. Surprised me, a lot.
Not only can you get the Giraffe, but you can get many other types of patterns for the stools. So though I improvised, I bought the books after I crocheted my Giraffe as my inspiration and idea were prompted by this designer. Support the designers when you can because if you don't support them, they give up and they do the hard work.
As a result, my local Crochet Group are going to work on a few more now that I have the books just for gifting to children in our region.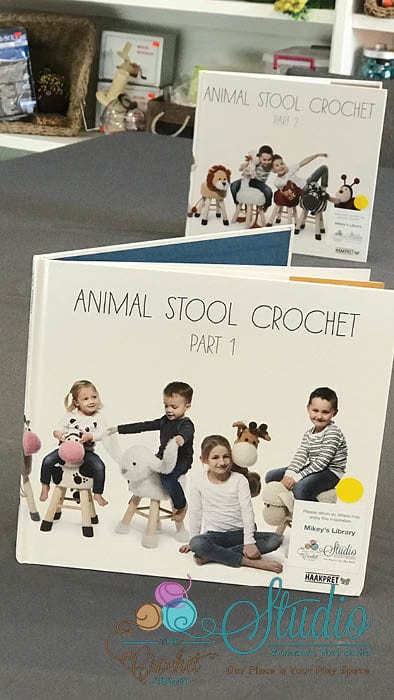 Abby Received Her Giraffe
Shipping Travis was a task and a half but Abby received her giraffe a couple of days ago. She says, "I'm In Love". My heart goes pitter-patter. Mission accomplished and glad I could do it.
More of My Yarn Artistry