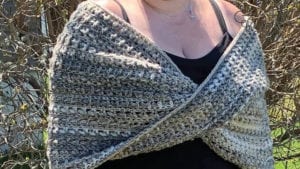 Crochet Field of Dreams Wrap
The Crochet Field of Dreams Infinity Wrap has a permanent twist. Comfortable to wear and casual too. Designed by Marina King.
Designed by our very own Marina. Marina is my personal assistant with behind the scenes blogging. She did up this wrap for herself and I thought she looks super in it. She likes the ponchos, wraps and more. She does many craft shows but also crochets for her own personal joy.


I challenged Marina to write it up but she was reluctant as she hasn't ever written a pattern in formal pattern writing. She wrote it up and then we worked together to get it to the industry standards together. I expect this won't be her last design.
More Ideas
More Shawl Patterns