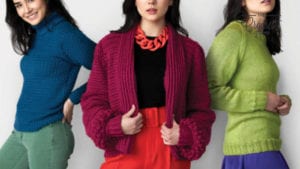 Mix and Clashing Colours
I can Mix and Clash without realizing I am. I know, it's a gift! However, from an industry perspective, there is actually a science behind it.
This brief article has a few things the Yarnspirations Design Team looks for when clashing. It's bold and definitely not for everyone but I really do like that grass green with that purple. Does that make me an approved clasher?


You will see how they use the colour wheel to figure out the clash.
More Ideas
More Clothing Ideas