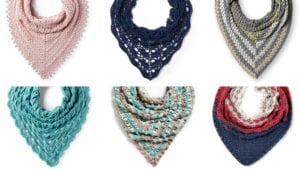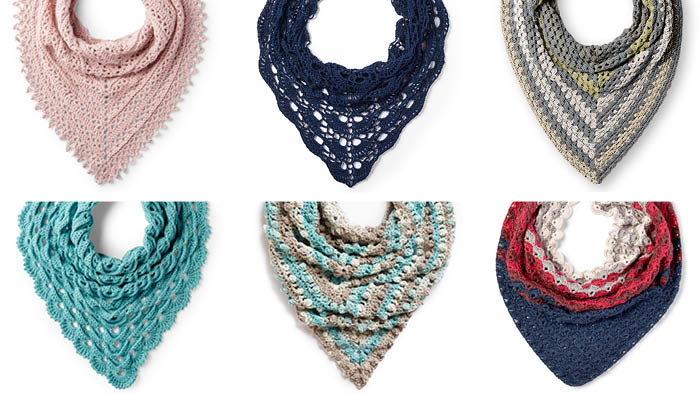 6 Incredible Crochet Shawls
When someone is suffering or needing a reminder, many crocheters turn to Crochet Shawls as a project. Crochet shawls are a great portable project. For myself, I enjoy making shawls during travel which includes waiting time in the airports and flying.
I've seen countless amazing stories of crocheters who offer comfort in recognition of emotional loss or comfort during difficult times. However, shawls are not just for that alone.
For those living in assisted living, they offer the top of comfort of being recognized but also take the chill off that they may be feeling.
For other people, a shawl is a fashion statement and practical wearable. Whether just dressing casual or dressing up for a formal ceremony, the shawls provide an added accessory but also warmth where a full jacket or sweater may be a bit much.
The collection below ranges from easy to more intermediate levels. Do what you love and love what you do.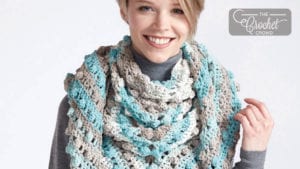 Crochet Make A Point Shawl
The Caron Cotton Cakes has a shawl pattern on the label called Crochet Make A Point Shawl.
The pattern has row 1 - 3 as establishing the point as it starts at the back of the neck and goes down the person's spine. Row 4 - 5 is the repeat pattern for the duration of the entire shawl.


Row 4 is just double crochets in each st and ch-1 spaces to the point and back.
Row 5 is the bobble and double crochets with ch-1 spaces between them. So you end up with a textured looking shawl.
Tutorial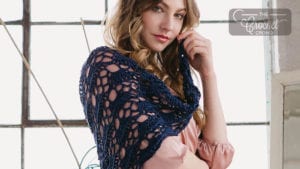 Crochet Yes, Yes Shawl
Introducing the Crochet Yes, Yes Shawl,  fabulous lacy design that will challenge you. It's an intermediate level and the first time we saw this pattern, it was decided in 2015 as one of the Crochet Cruise Projects. Wow, it wasn't the smartest choice of a cruise ship with 100 crocheters who are excited to be there and gossip.


We, behind the scenes, labelled this as the Crochet No, No Shawl. This shawl requires you to concentrate, not to casually sit back and move the hook. You need to count and trying to share stories as you crochet. However, the look is phenomenal. So politely, I've named this slogan for this shawl as the "More Concentration and Less Conversation"!
On my own, I was able to do this pretty easily. If I am watching TV, I just zone out to count as I need to without having to contribute conversation. There is a crochet diagram to be able to follow.
Tutorial
https://www.youtube.com/watch?v=J0JX-yER_VA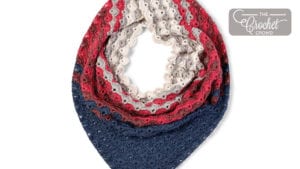 Crochet Fawning over Fans Shawl
The Crochet Fawning Over Fans Shawl is a very easy repeat using the new Caron x Pantone Bamboo yarn. The pattern is very easy to repeat once you get started. With the new luxury level yarn, the shawl will be drapey and really soft.
The Fawning over Fans Crochet Shawl takes 5 Caron x Pantone Bamboo braids. Being strategic with the colours, you, too, can create nearly an unlimited colour palette of your new shawl. The colour placements are strategic to maximize the amount of yardage of all 5 braids.


Tutorial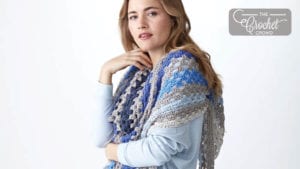 Crochet Staggered Stripes Shawl
This Crochet Staggered Stripes Shawl is a really neat concept that reminds me of a lot of a reflection shawl. Using Caron x Pantone Bamboo, the beautiful drape and feel of this yarn are stunning.
The shawl starts off at the back of the neck and grows outward. Therefore, this concept can be for a child or adult depending on how big you want to make it.


You will see in the tutorial image below, the middle of the shawl has a colour change and don't assume you are cutting the yarn to make that happen.
Tip: When you get to the middle, you drop the existing yarn and pick up the yarn for the other side. This concept would allow you to make a project where both sides of the shawl to be a different colour.
The look is really neat. While some crocheters prefer to crochet without much effort, this one requires you to switch the yarn strand in the middle.
Tutorial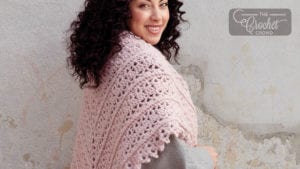 Crochet Filigree Shawl
The Crochet Filigree Shawl is a new design as of winter 2019. I was captivated by the texture, edging but also how delicate the shawl looks. Once the project gets underway, there is a 3-row repeat that is required.
This project starts at the back of the neck and expands outward. This means, you could do a child-size or maybe make it even bigger for your own comfort. I prefer shawls that start at the back of the neck and work outward so that it can be changed to suit individual needs.


There is a crochet diagram available for this pattern.
Tip: I tend to lose counts when I do half double crochets. So if I were to do this for myself, I would replace the half double crochet and make it a double crochet. However, just keep in mind, the yarn suggested, changing something like this will change the amount of yardage you may need.
Be creative and have fun.
Tutorial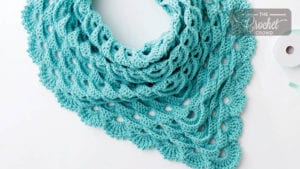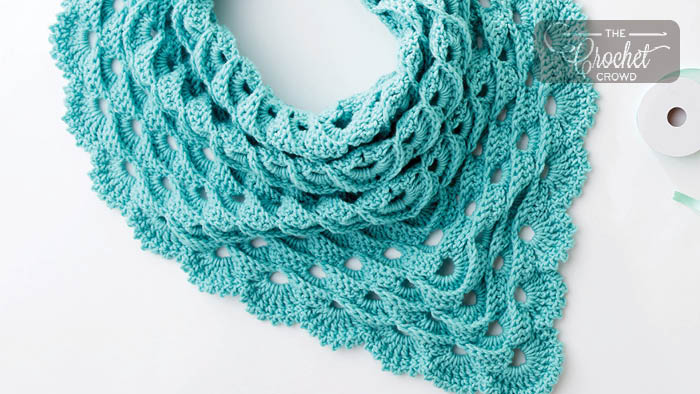 Crochet Go-To Shawl
Just for kicks, I printed out this Crochet Go-To Shawl as I left for a plane trip. I looked at the texture and made a judgement call to change the row colours to really let the light play with the strong texture of this shawl.
This shawl starts at the back of the neck and grows outward. The advantage of this easy to do shawl is that you can make it as small or large as your heart's desire.


I do think a solid colour of this shawl is just as sweet. The tutorial talks more in-depth about this project to help you further.
Tutorial
More Shawl Ideas