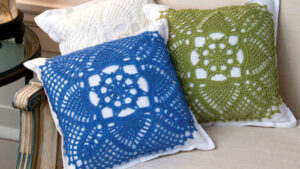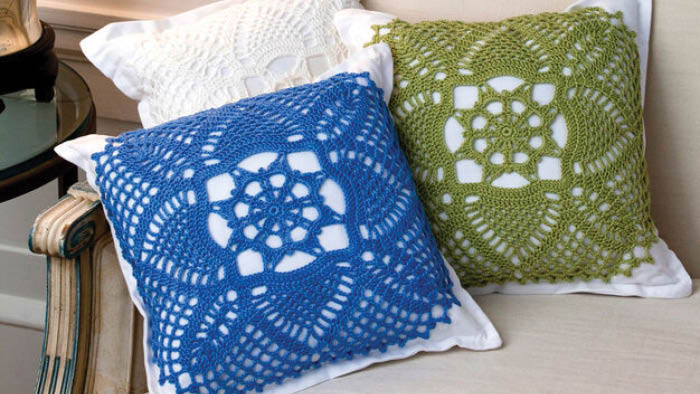 The Crochet Pineapple Stitch is elegant and can be very lacy depending on the application and yarn. It's an elevated stitch.
In doily work, it's fine details but for me, I prefer to use Patons Grace Yarns instead of thread yarns. I've been crocheting for over 30 years and the fine threads don't work well with me. However, Patons Grace has me excited. The Symphony Doily in the Patons Grace significantly changed the size from being a small foyer table to something more for the dining table.
---
Lacy Pineapple Shawl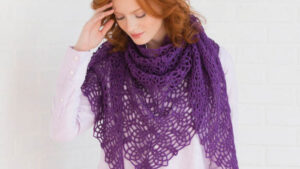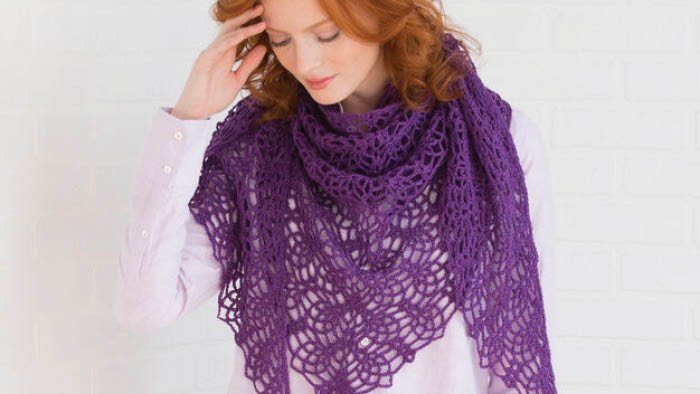 The Red Heart Lacy Pineapple Shawl is using sock yarn called Heart & Sole. However, you can use other sock yarns like Patons Kroy for this wondering addition.
I love shawls done in sock yarns as it's long-lasting and they tend to drape and flow with a person.
You can dress it up or dress it down. It's just a wonderful opportunity.


---
Romantic Pineapple Shawl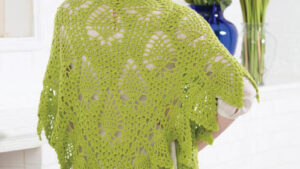 A more complex crochet shawl is the Romantic Pineapple Shawl. It's a 7-page word by word pattern that is really detailed.
There are 42 rows in the main shawl itself and then each point of the dangling pineapples is done separately at the end.
I could see myself challenging myself to do this but not to film it. It's more of a mental exercise and sees what I am capable of doing.


---
List of More Pineapple Stitch Patterns
Preview of Unseen Mandala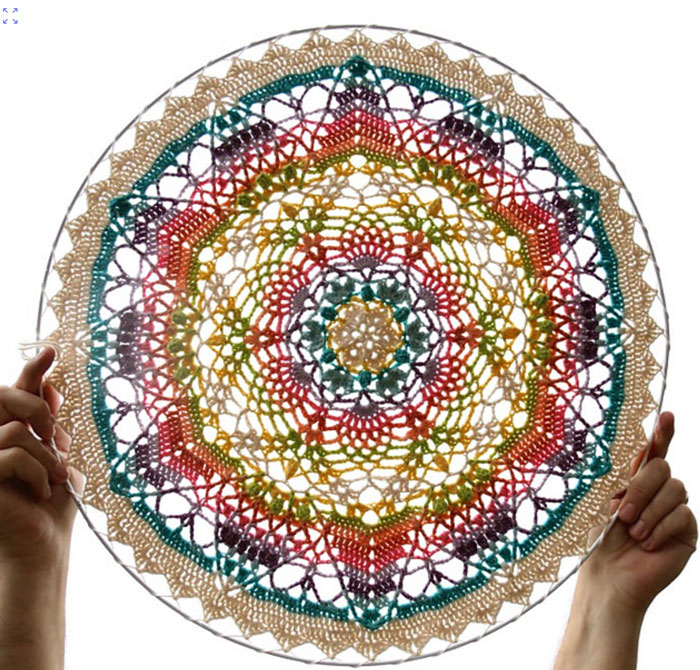 ---
Crochet Simply Soft Pineapple Shawl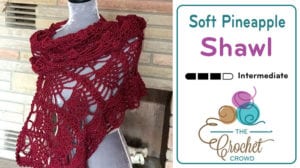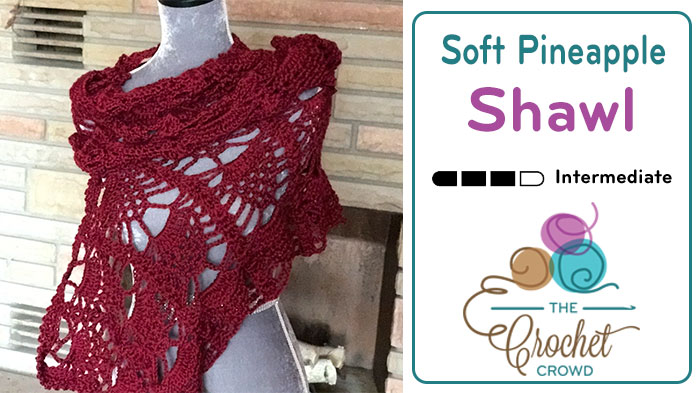 This is the Soft Pineapple Shawl, an adaptation to the Crochet Lace Pineapple Shawl by Yarnspirations. Using Caron Simply Soft, I adapted the pattern so you can use one of America's leading brands of yarns if crochet thread isn't your thing.
This pattern is spectacular in every way. I have provided, through Yarnspirations, a diagram for those who need a visual road map on where to go in the pattern. Once worn, the pineapples will hang with ease and the magic of your incredible stitchwork will be revealed.
Knowing this is an adaptation and using much thicker yarn than crochet thread, you will find this shawl will crochet up pretty quickly. It's lacy, so there's a lot of chain work that will speed you into warp crochet velocity when completing this pattern. I did my version in just one evening.
If you need further help, I have provided a tutorial for your convenience.


Tutorial
---
Crochet Pineapple Lace Shawl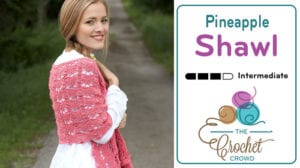 Using Crochet Thread by Handicrafter, you can crochet this incredible Pineapple Lace Shawl. This is elegant and perfect for special occasions. You know, when you want to dress to impress.
The tutorial is showing you how to do this stitch. For tutorial reasons, I have substituted using Caron Simple Soft Yarn as it's difficult to film a really thin thread. For me, I have a small shake in my hand and being zoomed in so closely, it's obvious.
If you love thread and are looking to make an impression, the Pineapple Lace Shawl should be your next project.


Tutorial
---
Pineapple Lace Shawl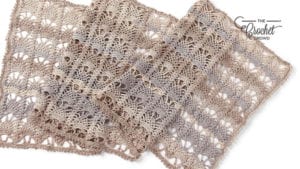 The Crochet Pineapple Lace Shawl is an old pattern that has resurfaced. Created originally for Bernat Handicrafter, it has come back using the Red Heart Croquette yarn. Bernat Handicrafter Thread has been discontinued.
I filmed the original video and the pattern is exactly the same. You can use the same video using 4 'puck' size balls of yarn.
The video has a small change in the introduction but everything else is the same. I did sub the hook inside the video. For this size, the pattern states 2.75 mm / C hook.


Tutorial
---
More Pineapples Stitch Patterns
Preview of Galyna's Designs (Paid Designs)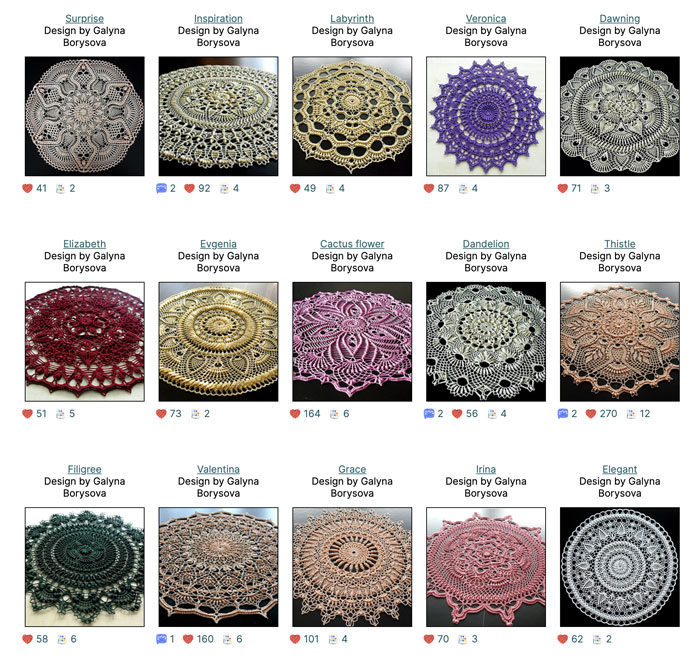 ---
Pineapple Scrubby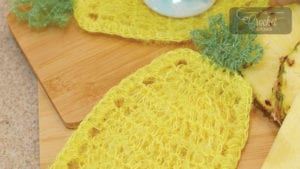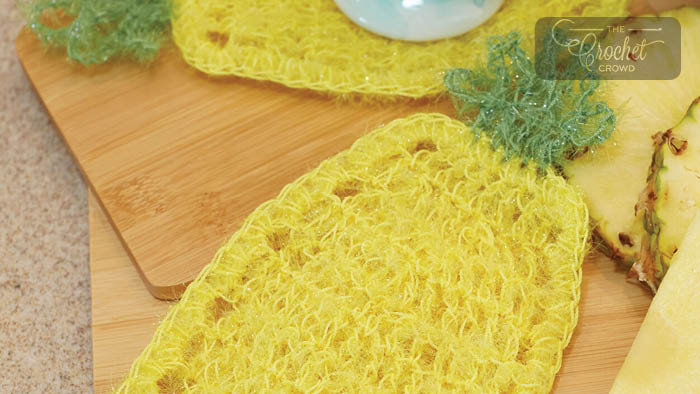 Use this Crochet Pineapple Scrubby Dishcloth to brighten up your day. Designed by Carolyn Calderon this Crochet Pineapple Scrubby Dishcloth is made using Red Heart Scrubby Sparkle it's a splash of colour with the fun sparkle to it just what you need on a gloomy day to brighten it up or a chilly winter day to feel like its summer again. Use it to clean up that mess after cutting up a fresh pineapple.


---
Crochet Juicy Pineapple Pillow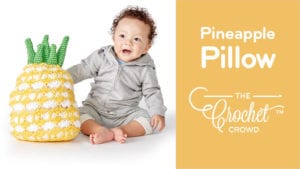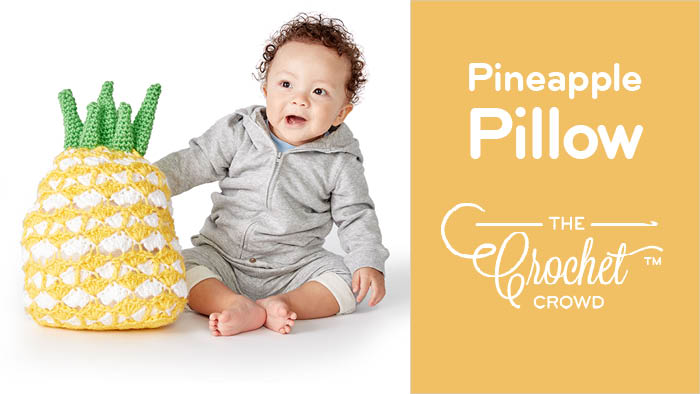 This tropical delight called the Crochet Juicy Pineapple Pillow is a pretty easy pattern to make. Once the size is made for the base, you crochet up the sides in a continuous repetitive pattern.
Work up this pillow lay back on it and dream of that vacation getaway you're waiting for while sipping on pineapple juice.


---
Crochet Pineapple Symphony Pattern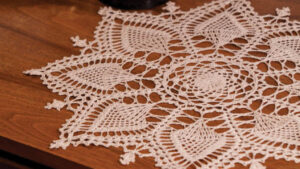 There is a friend of mine who goes to Stitch Social where I go and she makes the most beautiful table clothes I have ever seen this Crochet Pineapple Symphony Pattern reminds me of a miniature version of it. About as close to attempting her table cloth that I'm going to attempt is this Pineapple Symphony.
An easier pattern than the last few but it looks the most challenging to me, but the Pineapple motif in this pattern seems to be very popular, I've seen it in a lot of patterns from Shawls to table cloths. I'd like to attempt on in earring form but until now haven't really been able to find a pattern, I may just dissect a section of this one to attempt making a pair.
The Crochet Pineapple Symphony Pattern was Designed by Kathryn A. White using AUNT LYDIA'S® Bamboo Crochet Thread, Size 10, which I haven't tried the Bamboo yet, now I have a reason!

Tutorial
This is scheduled for filming soon.
---
Crochet Rainbow View Blanket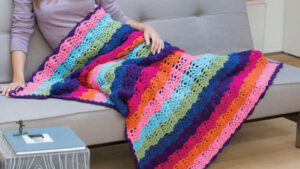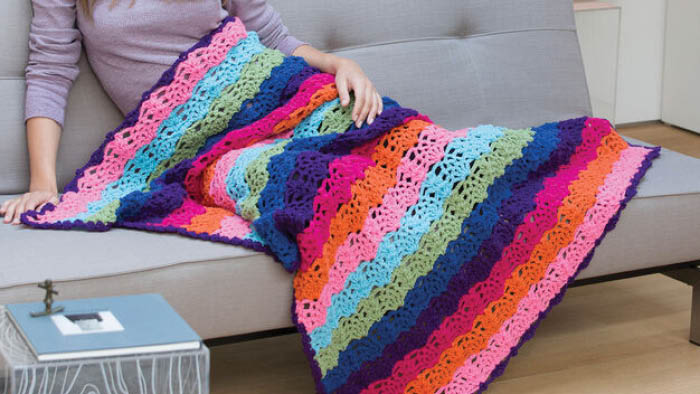 Are you looking for something new? Perhaps a Rainbow Afghan? Look closely at this new afghan as there is more than meets the eye.
Originally, I was just seeing the colours but then I zoomed my eyes into the afghan itself to see the stitch work. By golly, I am seeing pineapples in the stitches. This got me all excited!
Pineapple stitches or look-a-like pineapple stitches are fabulous to work with once the pattern clicks into the brain. It's a lot of loop and gap work that makes it a breeze to go through. I am sure this afghan won't take up too much time and will work up relatively quickly.
So if you want to see a closer view or even want to review this pattern, you can get the free pattern Rainbow View Throw Crochet Pattern and check it out for yourself.


Tutorial
---
Crochet Lacy Blues Pineapple Shawl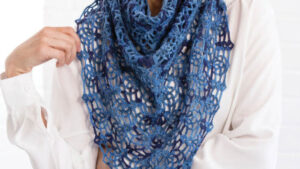 The Crochet Lacy Blues Pineapple Shawl is really flowy and can be dressed on a casual or smart day. Depending on your attitude and outfits of the day.
A crochet diagram has been provided with this lovely shawl. It's using sock yarn which is a light and long-lasting yarn to play with. You could substitute with Kroy Sock Yarn too for other possible looks.


---
Crochet Pretty Pineapple Pillow Doilies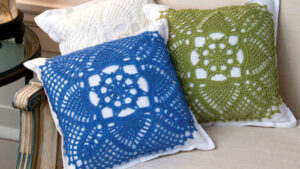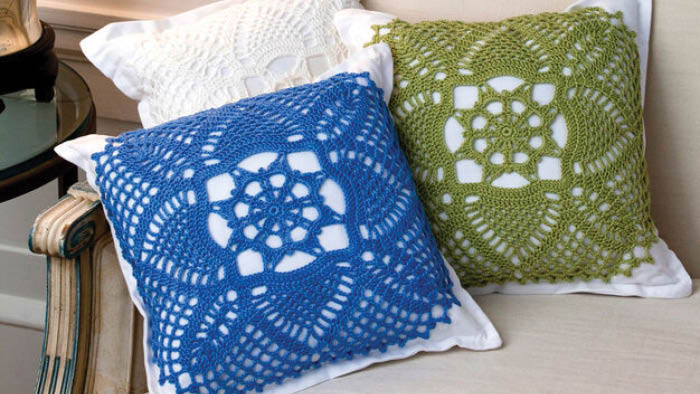 The Crochet Pretty Pineapple Pillow Doilies overlay the pillow faces to provide a regular square pillow to have an elevated look to it.
What is more shocking to me, it only takes 17 rounds to make this. Seems like would be stretching out nicely.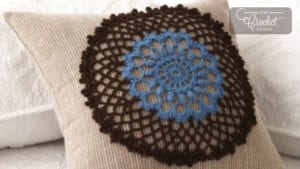 The execution of this could be very much like the Crochet Doily Pillows. Where the doily is made and then sewn to the pillow face.
This project was one of our first ever stitch alongs in 2012 to test trial the idea of separating a project into multiple videos for follow through.
It's almost timeless.
More Collections