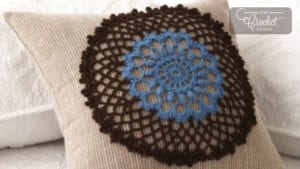 Crochet Doily Pillow
This
Crochet Doily Pillow
is an overlay motif that is sewn directly to the pillow once you are completed the doily. The doily motif really isn't hard to do and it has some gorgeous stitchwork in it to boot.
If you are looking to spruce up your juke joint, this pillow idea may be what you want to do. It does remind me of something 'high end' that stores would offer for big bucks but you can make it yourself.
Video Tutorial
Pattern Created by Bernat®. Video instructions authorized by Bernat®.