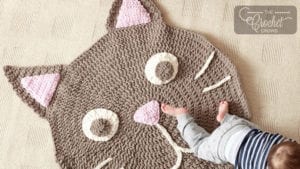 Crochet Purrrfect Play Rug
Introducing this whimsical Purrr-fect Play Rug for kids by Yarnspirations. This is made up of Bernat Blanket Yarns.
The main rug is double-stranded for extra thickness and comfort for children at play. The add ons such as at the inner ear, eyes, nose and whiskers are just single-stranded motifs.


More Ideas to Think About
This is not a difficult pattern to play with. The tutorial below goes through each of the components and tips for sewing things together. Also tips for sewing on the motifs.
Accessorize your children's rooms with a fun play rug!
Video Tutorial
Modern Nursery Lookbook
Yarnspirations introduces a whole new set of patterns to modernize the nursery with Modern Nursery. Fun-loving crochet and knit lookbook featuring new patterns.
Inside, you will find great accessories like blankets, home decor and outfits for the new baby in your life to wear.
Baby Pattern Ideas