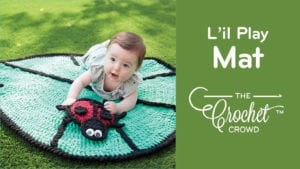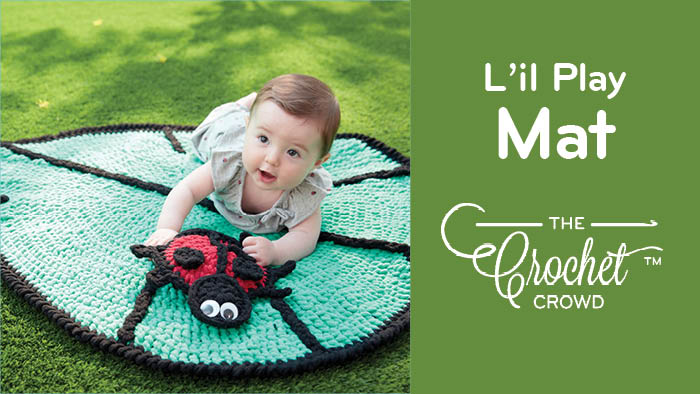 Crochet L'il Leaf Playmat and Lady Bug
OMG, when I saw this for the first time, my teeth hurt as it's incredibly sweet! The leaf is fab, the ladybug is divine but the baby model is adorable. This is the Crochet L'il Play Mat with Lady Bug pattern.
Included in the pattern is a diagram to help you form the leaf and ladybug shapes. The leaf is a large circle and the final few rounds are changed in height changes to form the leaf. It's pretty straight forward. I have plans to film this.
See more pictures of this playmat on the pattern. There are other angles to enjoy.


Pattern Suggestions
More Projects Featuring Bernat Blanket
Bernat Blanket Yarn" data-style="grid" data-row="1" data-layout="vertical" data-rtl="" data-fitrows="" data-filtercomb="" data-filterlogic="OR" data-filterload ="" data-sortbyload ="popular_post" data-orderload ="false" data-fullwidth="" data-fullheight="null" data-gutters="[[320,5],[480,5],[768,10],[980,10],[1200,10],[9999,10]]" data-slider='{"itemNav":"null","swingSpeed":0.1,"cycleBy":"null","cycle":5000,"startAt":1}' data-ratio="1.78" data-cols="[[320,1],[480,1],[768,2],[980,4],[1200,4],[9999,4]]" data-rows="[[320,200],[480,200],[768,220],[980,220],[1200,240],[9999,240]]" data-animation='{"name":"Fade in","visible":"","hidden":""}' data-transition="700ms" data-ajaxmethod="load_more" data-ajaxdelay="100" data-preloader="1" data-itemdelay="100" data-gallery="" data-ajax="">