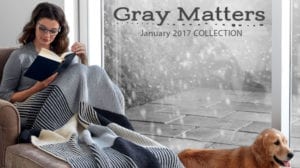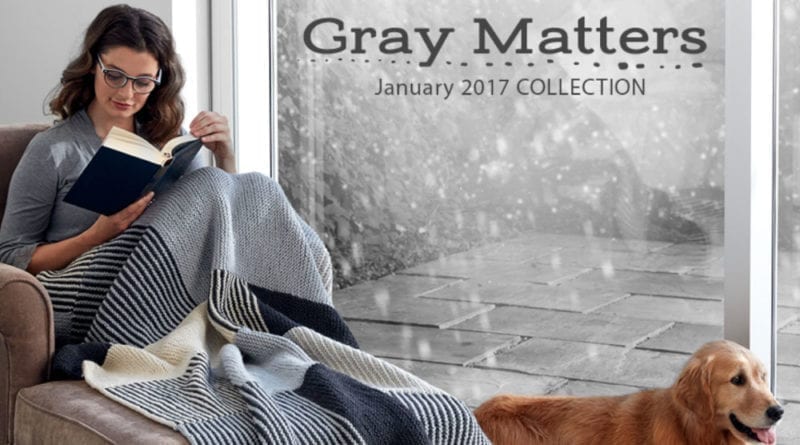 Gray Matters Lookbook
Yarnspirations has released a new Lookbook called Gray Matters. Speaking bluntly, they nailed it! This book is one of my favourites, of all time of the Lookbook Collection.
Gray is one of the most sold colours of yarn. For me, I love gray but for whatever reason, it's not my go-to and I don't consider it. Yet, when I use it, it makes my projects look incredible. For me, it's a colour that can blend with many colours and has a neutral look. It can be feminine or masculine depending on the project.

Pattern Suggestions
For the crochet portion of this lookbook, the Modern Log Cabin is my favourite. I really enjoyed making the miniature sample. I hadn't done that before. For the knit version patterns, the Ombre Ridges Blanket has my excitement. I love the gradation of colour ideas used in the simplistic stitching.
For me, personally, I learned the most on the Pebble Pop Pillows for knitters in this edition. I learned how to Knit 1, Purl 1, Knit 1 inside the same stitch. For a new knitter, like me, I found myself questioning what it was. I investigated and realized the words feel more complicated than the steps involved. So for me, I furthered my knitting skills with this particular project.
Overall, I think this book has a lot to offer for home decor. The projects are soothing and offer comfort at this time of year, (being winter now). They are a great way to spend an evening after a long day.
Check out the free designs available inside this free Lookbook.
Lookbook Video Previews
For Video Previews of Selected Lookbooks. Please view the below. Videos are in order of most popular. Links to the free Lookbooks are inside the video descriptions. They are also listed on Yarnspirations in their Lookbook Collection Page.
More eBooks To Check Out
No post was found with your current grid settings. You should verify if you have posts inside the current selected post type(s) and if the meta key filter is not too much restrictive.