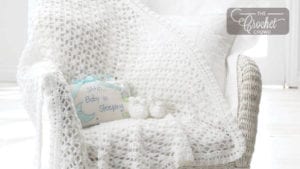 Blanket and Booties Set
This is a combo free pattern set featuring a delicate crochet baby blanket and baby booties for 6 - 12-month sizes.
The blanket is an open lacy stitch which I think would be appropriate for very special occasions and certainly would be well received as a gift at the baby shower.
You can crochet your own set in pretty much any colour you wish. Get both of the free patterns, it's called Blanket and Booties Set.


Tutorial
Baby Blanket Pattern Ideas