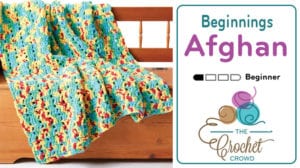 Crochet Bright Beginnings Blanket
Great for beginners of crochet, try the Bright Beginnings Blanket as your first project. For experienced crocheters, this is a breeze and quick to make too!
In this tutorial, we are simply doing double crochets in groups of 3 followed by a ch-1 to create a space. Doing a pattern like this, as I reflected on in the video tutorial, with the ch-1 space, it makes the yarn go a bit further as it's fewer stitches.
These types of afghans using the Bernat Blanket Yarns are really soft and warm. In warmer climates, the ch-1 space can provide ventilation and, of course, a stylish element to it.
Try this beginner's project as your first project. You may just get hooked on crochet.


Video Tutorial
Afghan Pattern Ideas