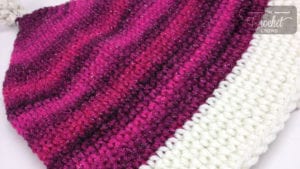 The next Free Pattern and Video tutorial are the Toddler Santa Hat Pattern.
This is designed by Kim Guzman, for Red Heart Yarns. This is a really simple and fun pattern. I was taken back by the simplicity once you get the repeat pattern required.


In my tutorial, I show you how to avoid the pesky seam lines created by the slip stitching. As much as I have been crocheting for 27 years, I still have the problem of my slip stitching creating terrible seam lines that bug me to no end. Instead of slip stitching, I show you how to do a continuous round and keep count of your revolutions. This way, when I donate my hats seen in the tutorial, the kids that will be gifted my hat won't have to worry about knowing which way to wear the hat. It's a small change but allows my Slip Stitching OCD to relax!
Can't follow directions on paper? Just follow my tutorial below. This is the 2nd Gift of Christmas for 2013. More to come! Stay Tuned!